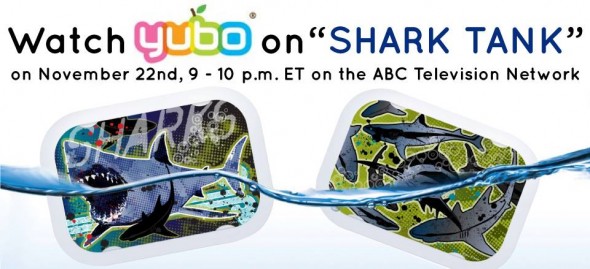 When I was a kid, there was no such thing as custom lunch boxes. In fact, unless you decorate your own, Yubo is the first company to make a business out of custom lunch boxes. Husband and wife entrepreneurs Paul and Cyndi Pedrazzi pitch their business to the Sharks in episode 511 and they hope the Sharks pitch in to take this business to the next level.
The idea behind Yubo is to make custom lunch boxes that are modular, durable, and fun. Each Yubo lunch box has 3 sizes of modular containers, a custom fitted ice pack, and interchangeable exterior face plates that allow kids to personalize them.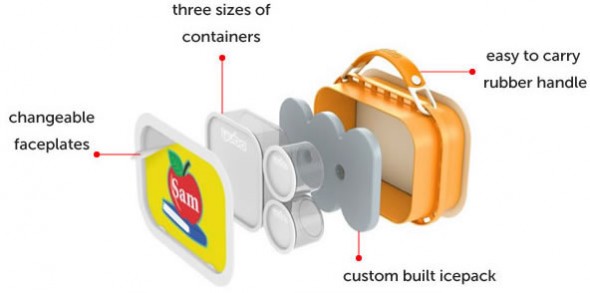 Everything is re-usable and washable. The interchangeable face plates for the custom lunch boxes exterior can be personalized with a child's name, a favorite photo, or you can pick "stock" designs. Kids can literally have a different lunch box for every day of the week.
My Take on Yubo
When I was a kid, my mother got my brother and me a new lunch box every school year. It was my favorite part of back to school shopping; every year from kindergarten to the fourth grade, we got a shiny new lunch box to tote to school. In those days, they were metal boxes adorned with the latest hit kids show characters, sports team, or cool toy and they had a thermos inside. My prized possession from that era was a Bobby Orr lunch box – I wish I still had it, it's worth big bucks now!
The Padrazzis are on to something with this lunch box thing. Kids LOVE their lunch boxes, my 9-year-old is going through a "lunchbox identity crisis" this year; she wants Santa to bring her a "cool" lunch box (I guess the Coldwell Banker ad specialty soft lunch box she's toting doesn't fit the bill). I showed her Yubo's website and she thought the custom lunch boxes were "awesome!"
Yubo sells on Amazon and in specialty stores all over the world. Tracy Noonan even carries them in her Wicked Good Cupcakes shop in Cohasset. My guess is, in addition to money, they're looking to the Sharks for help with distribution. This product would sell well in many retail, big box stores.
Will Sharks Carry Custom Lunch Boxes?
I sincerely hope the Padrazzis are making money, because if they are, some Sharks will bite. Yubo has Lori Grenier written ALL OVER IT. It's demonstratable, it serves a purpose, and it's got a good price point. I can see Yubo on QVC with Lori the Saturday morning after Shark Tank.
They may get other offers, too. I'm thinking at least one of the Sharks will think of licensing for the interchangeable exterior plates. Kids still want their favorite sports team, cartoon character, or celebrity on their lunch boxes and they could switch out the plates according to their desires on any given day (it makes for a nice add-on sale too). If the Yubo is as durable as they say, parents could update the look and have "new" custom lunch boxes several times throughout a child's elementary school career.
I think Lori will be the big bidder on this one, but any one of the Sharks could make a play. Robert has connections at The Container Store, so he may bid; Yubo would be a good fit there. Regardless of who bids, Yubo is a winner. I am "IN" with an Orange Lunchbox with the personalized Honeycomb Monogram Faceplate Set. Good Luck Yubo!