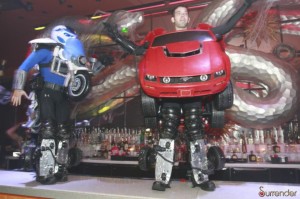 Drive Suits entrepreneur Drew Beaumier will be the envy of Cosplay aficionados everywhere when he appears on Shark Tank episode 408 this Friday. The 25 year old actor/inventor/entrepreneur might be a few weeks too late in the Shark Tank; he could have sold a ton of his Drive Suits, a Transformer Costume that is also an actual working vehicle, prior to Halloween. Any fan of the old Transformer toys or the current movies will undoubtedly think Drive Suits is extremely cool! Beaumier will have his entire entourage of vehicles when presenting Drive Suits to the panel of Sharks; it is an impressive entrance!
What are Drive Suits?
As I stated previously, Drive Suits is an honest to God, live action Transformers costume with real working vehicles. If you ever dreamed of being a Transformer, this is a must have item. Entrepreneur Drew Beaumier, a lifetime Transformers fan, made the first Drive Suits prototype back in 2008 with a used power wheels car and some spare parts he gathered up. He put the whole thing together and the rest is history.
The Drive Suits crew is available for events (Beaumier has appeared in parades, at comic conventions, and at celebrity events) and birthday parties. Beaumier even auditioned for American Idol, singing "Born to be Wild" while wearing one of the Transformer-like Drive Suits! Whatever Mr. Beaumier hopes to accomplish in the Shark Tank, the Drive Suits are sure to be a hit with both Sharks and fans.
Will the Sharks be Transformed?
If you look at the Drive Suits website, it is a bit unclear exactly what the business model is. The home page is Drew Beaumier's resume; he appears to be looking for work as an actor/writer/designer/producer. Posting a resume as the entry page for a supposed business is not the way to exude confidence in a business offering. The webpage can be deceiving as an indicator of Shark Tank success. Lately, entrepreneurs aren't rolling out new pages until a day before their episode airs or even on the day of  broadcast.
Drive Suits has two business components: you can hire them for an event or party or you can buy a Drive Suit of your very own. Hiring the Drive Suits crew is pretty straight forward; pay them and they show up and do their Transformer thing. Buying a Drive Suit is a bit more complicated since each suit must be custom-made. That being said, there is probably a solid niche market for the suits. Heck, if I had the dough, I'd want one, but I am willing to bet they cost more than my first used car.
The Sharks probably won't buy into investing in an event related business and the niche is way too small for production of the Drive Suits. I think this is one of those pitches where all the Sharks like the concept, but they can't see value in investing. It's still pretty cool, though.
Here's a preview:
Here is the Drive Suits American Idol audition video: