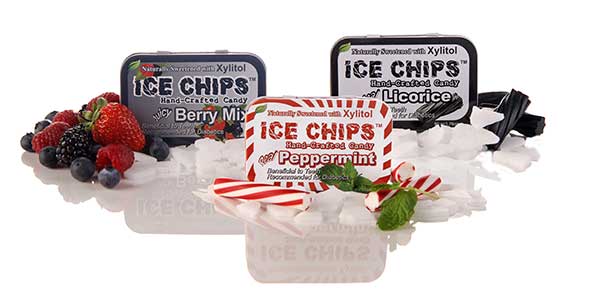 Ice Chips Candy entrepreneurs Beverly Vines-Haines and Charlotte Clary hope to sweeten things up in the Shark Tank with their xylitol candy in Shark Tank episode 408. The two grandmothers from Yelm, Washington, founded Ice Chips just two and a half years ago. They hope the Sharks can chew on their natural, birch wood xylitol candies so they can roll out distribution on a larger scale.
What is Xylitol Candy??
Ice Chips are the latest, all natural, green business to jump into the Shark Tank. The name comes from the random look of the finished product; rather than being uniform shape and size, each candy looks like a little piece of shaved ice: literally an ice chip. The candies are sweetened with natural birch wood xylitol, a natural sweetener that is produced in nature and the human body. Xylitol is a great way to sweeten candies and chewing gums because bacteria present in the mouth do not absorb it and produce acids, like they would with sugar. Xylitol candy and gum also stimulates alkaline saliva in the mouth, balancing acidity. Eating Ice Chips candies can actually reduce plaque and stimulate healthier gums! It's candy that's good for your teeth, how awesome is that?
Ice Chips are certified organic and are made right here in the USA, a fact that Beverly and Charlotte are very proud of.  Dentists are big proponents of Ice Chips too and the entrepreneurs claim dentists encourage parents to give Ice Chips to their kids to help promote dental health. In just two and a half years, Ice Chips have found their way into over 1,000 stores nationwide. The all natural, xylitol candy can be found in grocery stores, health food stores, and gyms in all 50 states. Ice Chips can also be purchased online.
Are the Sharks Sweet on Ice Chips?
Ice Chips has what it takes to be on Shark Tank: they're unique, they serve a purpose and they have sales. Their market saturation is impressive too.  Most stores that carry Ice Chips are of the independent, "mom and pop" variety, though there are selected Whole Foods Markets that carry it too. The Sharks should be impressed with the speed which Beverly and Charlotte have brought Ice Chips to market. As always, they'll need their sales numbers to reflect their valuation. The Sharks need to like the taste of the candy, too.
Barbara Corcoran has taken flyers on food businesses before, so she may be a target. Expect Kevin O'Leary to make an offer with some sort of royalty (he really needs to be more creative). Daymond John may have an interest as Ice Chips would be an easy placement in some of the national chains he has connections to. I think Mark Cuban and Robert Herjavec will like the product, but won't have enough knowledge of the space to make a bid.
Food related businesses have been a mixed bag on Shark Tank in the past, but Ice Chips are a non-perishable, counter top item that is easy to ship wholesale. This could be a bonus for Beverly and Charlotte. Ice Chips definitely needs to be in retail locations. It is a unique product in the candy space, normally occupied by small "craft-like" confectioners. With a national roll out, Ice Chips could really take off. Whether The Sharks bite or not, I am "IN" with ice chips!
Here is a video Charlotte and Beverly made at a Dental Trade Show: