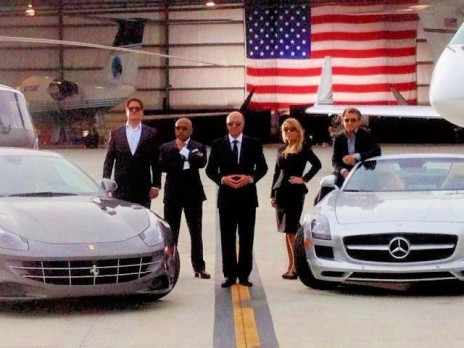 Friday April 12 airs a re-run of episode 410, one of the wildest Shark Tank episodes of season 4. This episode had star power, a heartfelt/tear-jerker pitch and a classic Shark Tank train wreck! One pitch takes up an entire half hour of the show and episode 410 is the only Shark Tank episode with just three entrepreneurs as a result.
Friday April 12 Entrepreneurs
Seth MacFarlane appeared with his friend, entrepreneur Bruce Gaither, to pitch the No Fly Cone – a cone-shaped fly trap. MacFarlane was an obvious PR set-up to help hype his appearance as host for the Academy Awards. As a pitchman, he offered little help in enticing the Sharks. As a comedian, I believe he flopped!
Cool Wazoo entrepreneur Ginelle Mills created her product as a heat barrier between a child's skin and hot surfaces. The 5-in-1, multi purpose baby cover didn't overwhelm the Sharks at first, but Ginelle's tear-filled, heartfelt pitch that revealed her passion for her product eventually won one of them over.
PlateTopper entrepreneur Michael Tseng had one of the most well-developed, mass appeal, consumer products to ever appear on Shark Tank. He had his Plate Topper on QVC and in Wal Mart and came to the Tank to get the Sharks' help with funding purchase orders. Michael's pitch was very confusing at times and his approach infuriated viewers and Sharks alike. He scored a deal with Lori Greiner, but she Tweeted out on the original air date that it never went through because she ended up "not liking his tactics much." In an interview with Shark Tank Blog, Michael gives his side of that story.
Friday April 12 Shark Tank Update
The update segment for episode 410 features Nail Pak, the nail polish, remover, and file all in one neat package. Entrepreneur Barbara Lampugnale scored a deal with Lori Greiner in episode 314 in season 3. Lori had NailPak on QVC the day after Shark Tank and sold the product out! Since then, Nail Pak has made it on the shelves in major chains.
Enjoy the show!