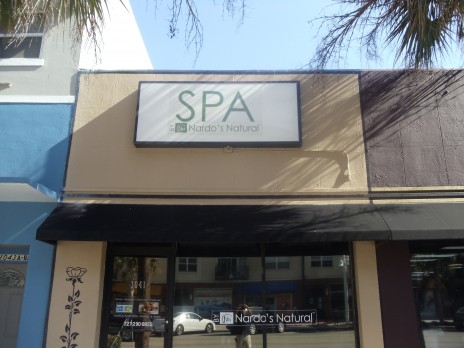 Kyle and Danny Nardo greeted me and my family at their new spa in St. Petersburg, FL and gave me a Nardo's Natural update on video. We met them in the late morning and they showed us around the spa.
Nardo's Natural Update on New Developments
While Danny played soccer with my 8 year-old, Kyle gave me the scoop on what's been happening with the business. The boys recently switched to new packaging for their products, giving them a more "feminine look." Danny explained that, while their products are uni-sex, their demographic is largely female, so they  wanted the packaging to reflect it.
Danny also talked about Nardo's Muscle Rub. All the Nardo boys are athletes, so they wanted to develop a product for sore muscles. 3 time All Star and Cy Young Award winner David Price, who happens to pitch for the Tampa Bay Rays, is the celebrity endorser for this product.
Kyle spoke about how the spa has become like a Nardo's Natural gift shop. People come in and buy product and sometimes get a massage or manicure. Kyle says having a retail location allows the boys to connect with their customers on a more personal level.
Kyle also spoke about a big deal the Nardos have in the works. They will be distributing their products in a 40 store "medium box," premium retailer. Since negotiations are on going, Kyle couldn't divulge the name of the chain, but he said Nardo's Natural products would be a good fit for the chain.
More Fun with Kyle and Danny
Kyle and Danny are good sports and sent us home with some of their body lotion and lip balm. The body lotion did wonders for our sun-dried skin. After spending a week at area beaches, the whole family still had soft, smooth skin instead of dry peeling skin. We took the boys out to lunch at a local hot dog shop and had some fun shooting "Hot Dogshark Tank," a little spoof on the Shark Tank format.
Nardo's Natural Update Video
Here's the Hot Dogshark Tank video