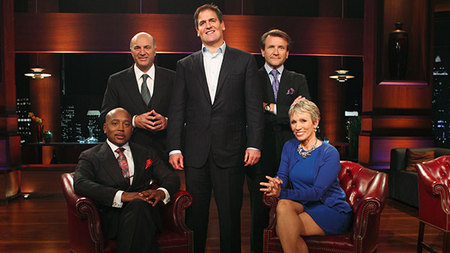 Friday May 3, 2013 brings fans a Shark Tank double-header! The final three weeks of season four feature similar line-ups, too. On Friday May 3, a re-run of episode 408 airs at 8 PM eastern time and the all-new episode 421 airs at 9 PM.
Episode 408 on Friday May 3
For those who missed it, episode 408 featured a celebrity guest. Comedian and writer Bruce Villanch accompanied entrepreneur David Cox in his presentation of PC Classes Online. Cox didn't get an investment (or a very good edit) and he told Shark Tank Blog in an interview that many of Villanch's funniest moments were edited out.
Drive Suits, the transformer costumes showcased by entrepreneur Drew Baumier, wowed the Sharks. Baumier had Mark Cuban and Mr. Wonderful bidding on his business. Baumier regrets his final choice since the deal made on air never got completed.
Ice Chips entrepreneurs Beverly Vines-Haines and Charlotte Clary sweetened up the Shark Tank with their Xylitol candy chips and scored a deal. Shark Tank Blog is interviewing the grandmothers/entrepreneurs prior to their update segment scheduled for the season finale on May 17.
Revestor is a real estate app that does instant investment analysis. Entrepreneur Bill Lyons has a great app in development, but it was a bit too early for the Sharks.
The episode 408 update segment features Voyage Air Guitar from season 1.
Episode 421 on Friday May 3
Episode 425 is the brand new episode featured this Friday. Four new entrepreneurs enter the Shark Tank seeking funding from one of the multi-millionaire panelists.
Entrepreneur David Glickman introduces the Sharks to The Vermont Butcher Block and Board Company, a business that makes kitchen and housewares from native Vermont Wood. Glickman should give the Sharks a run for the money: he's an MBA and former business executive who sources close to him say is "incredibly sharp."
Carol Foster pitches Mee-Ma's Louisiana Gumbo Brick, a frozen block of gumbo base she makes using an old, family recipe. Foster claims her frozen gumbo is as close to real Louisiana gumbo as you can get, without going to Louisiana.
College-aged entrepreneurs Samantha Meis and Conor Riley seek an investment for their coffee of the month club concept called Misto Box. Each month, subscribers get 4 new, micro-roasted artisan coffees shipped to their door.
Squirrel Boss inventor Michael DeSanti, a former aerospace industry professional, hoped the Sharks like his squirrel proof bird feeder. DeSanti took nearly two years to perfect his bird feeder that gives a mild static electric shock to interloping squirrels.
The update segment for episode 421 on Friday May 3 features Abby Jordan and Becky App from eCreamery. The pair failed to make a deal in episode 401, but sales of their custom-made, gourmet ice cream have gone through the roof!