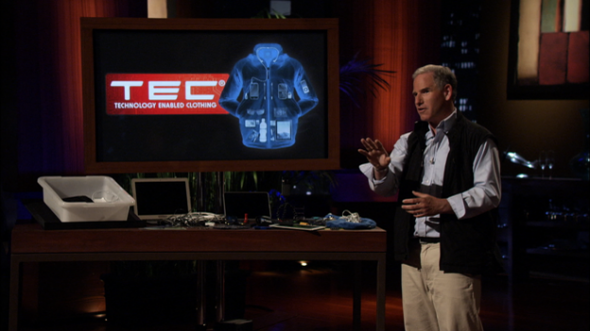 ScottEvest entrepreneur Scott Jordan's pitch to the Sharks in episode 311 in season three took on a life of its own after the show originally aired. Scott pitched the licensing piece of his business, Technology Enabled Clothing, to the Sharks unsuccessfully and Scott got into a huge, public, online feud with billionaire shark, Mark Cuban. The two engaged in a war of words on Twitter, taking some of the (sometimes manufactured) animosity from the broadcast "out of the tank" for the first time in memory.
At issue was Cuban's allegations that Scott was a patent troll. Without repeating too much of what was said in previous interviews with Jordan on this site,  let's just say Cuban took issue with some of Jordan's patents related to Technology Enabled Clothing. "The whole exchange was disingenuous," says Jordan, "the first thing they ask any entrepreneur is 'do you have a patent?' The fact that Mark Cuban took it upon himself to encourage patent infringement after the show was wrong." Scott was referring to Cuban's public endorsement of AyeGear, a Scottish company that is knocking off ScottEvest. Jordan is currently suing Ayegear for patent infringement.
Scott Jordan and ScottEvest one year removed
Jordan taped his Shark Tank segment more than a year ago and is nearly one year removed from his original air date. We spoke recently to get his "after Shark Tank" perspective.
"I don't really watch the show any more," he says, "knowing what goes on behind the scenes has made me lose interest. When I was there, I felt like I controlled the room, but the edit didn't show that. If I had anything to do differently, I probably wouldn't tell them I was a lawyer. When I did that, the tenor of the conversation changed; it didn't work to my advantage."
ScottEvest wasn't in play, in fact it wasn't even mentioned in the Shark Tank. If Jordan brought up ScottEvest, it could have been subject to the production company's 5% option. "I should have done an end run and told them I would guarantee my retail company would pay a million dollars per year to Technology Enabled Clothing in licensing fees."
Jordan spent a lot of time preparing for his appearance. He set up a mock studio and staged many trial run rehearsals. "I basically threw my whole organization into preparing. We put a lot of time and energy into it. In retrospect, if I had it to do over, I'd spend about one tenth of the time preparing. The measurable results as far as sales that came from being on Shark Tank wasn't what I'd hoped for. We did more than ten times the number of sales when I appeared on The Big Idea with Donny Deutsch. It may have gone differently if the edit was different."
Scott offered advice to future Shark Tank entrepreneurs. "Don't stay out there too long. The longer you're there, the more footage they have to edit."
Jordan has no regrets. ScottEvest continues to sell millions of dollars worth of product and the company continues to grow. He's still pursuing licensing opportunities for TEC as well. The future of ScottEvest looks very bright indeed, but Jordan would take another crack at the Shark Tank if given the opportunity. "I'd like to go back and present ScottEvest as a company without being subject to the 5% equity stake and give the Sharks the opportunity to invest in the retail company. I just wish the producers would stay in the TV business and stay out of the VC business!"
Oh well Scott, that's Show Biz!
I asked Scott one more question, find the answer on The Hot Dog Truck.