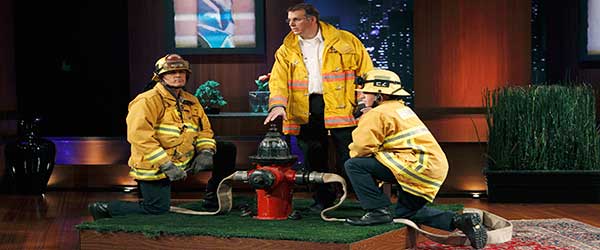 The Shark Tank on Friday, April 20 is a re-run from season two. Next Friday, April 27 will bring a new show, but tonight and tomorrow are repeats.  The Sharks in "Episode 204" are Barbara Corcoran, Mark Cuban, Robert Herjavec, Daymond John and Kevin O'Leary.
Origaudio is first into the Shark Tank, pitching The Rocket, which turns anything it's attached to into an audio speaker. Entrepreneurs Jason Lucash & Michael Szymczak's company had $750K in sales before coming on the show.  Daymond John and Barbara Corcoran make a play, but Robert Herjavec and Mark Cuban get into a Shark fight over the company. The guys eventually go with Robert's deal and were featured on a follow up segment this season. They are now looking at sales north of $4 million!
Johnson Bailey and his Original Man Candle are next up. None of the Sharks bite, but Mr. Bailey has become yet another Shark Tank "failure" to capitalize on the exposure and education he got on the show. In a follow up segment, Bailey's company is seen to be doing well, employing people and making money.
The Original Runner Company is a line of heavy duty, non-stick runners to put on the floor when brides walk down the aisle. Entrepreneur  Julie Goldman owns this niche space, but wants to expand. One by one, all the Sharks except Kevin O'Leary go out. The Sharks think they couldn't bring anything new to the table since Julie has such good market share already. Kevin offers $250K for a 51% stake, but Julie doesn't want to give up that much and she is "out."
Entrepreneur and firefighter Jeff Stroope and friends pitched Hyconn next. The company makes a quick connect device that allows emergency personnel to quickly attach a fire hose to a fire hydrant. It's a multi million dollar idea that has the added benefit of having the potential to save lives and property. Hyconn also makes a home version, for garden hoses. Mark Cuban and Kevin O'Leary engage in a bidding war with Mr. Stroope, who eventually takes Mark's deal. On a side note, this deal never went through. Stroope accused Cuban of letting his ego get the best of him and "Cuban started changing the deal."
Another re-run of Shark Tank airs tomorrow night. A new show will air next week, Friday, April 27. Lori Greiner returns!