Origaudio Preview – The Entrepreneur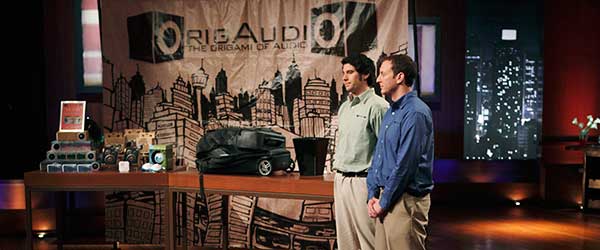 OrigAudio Entrepreneur, Jason Lucash, pitches his company to the Shark Tank Investors on Friday nights show. Before I go too far, I see an entire series of posts on the products Jason's company has created. Unbelievably cool!
We've witnessed the clips for this Friday night's show and hands down, the winner is OrigAudio. Already with just a little contact from this company, I can tell you that they've done a deal, most likely with Mark Cuban as this product fits perfectly into his space.
Origaudio Preview – The Shark
As you know, Mark Cuban was the founder of a company called AudioNet, something I used faithfully in the mid 90's. I remember one day getting a call from my now ex-wife who was a stock broker at the time.
She asked me if I had heard of a company called Broadcast.com, which left me scratching my head, then it hit me, she was talking about AudioNet. She told me that Broadcast.com (AudioNet) was to IPO the next day, and she wanted to get some information about it. I told her it would be a huge hit and to get her clients into this company.
Sure enough, the stock price skyrocketed and was one of the biggest movers in the dotcom era. Cuban became a millionaire and this company has that same potential, that's why I believe Cuban pulled all the stops to get into this deal.
While I admire and respect innovation, there are very few times that I'm blown away with an idea or product. This is one of those rare times.
Origaudio Shark Tank Preview – The Product
OrigAudio has 100% organic speakers that you can put any image on, and I thought that was cool, but what takes the cake is the Rock-It 2.0. This product turns absolutely anything into a speaker, anything!
You can make a cereal box, a hood vent, a glass, a milk jug, a golf bag, a purse or almost anything else into a speaker with this little device that they've created. This is absolutely unbelievable and while this device is 100% portable, I wonder if this company will evolve the product into home theater systems, where you can strategically make your household decorations into a 7.1 Pro Logic Sound System.
Origaudio Shark Tank Preview – The Deal
Regardless, if any product was ripe to create a Broadcast.com type IPO splash, it's surely the OrigAudio Company. Hands down, this company is a home run, and I haven't seen Friday Night's pitch yet!
While I believe Mark Cuban is definitely in, I think the rest of the Sharks are going to fight to invest in this deal. The question is, does anyone else get in?
Learn more about another Shark Tank Entrepreneur