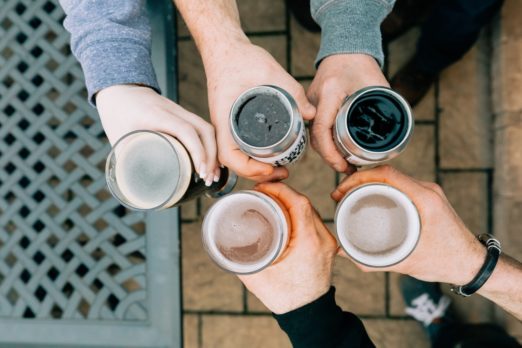 Patrick Parizo and Armand Ferranti invented the Draft Top to make drinking beer from a can more fun and flavorful. Their little invention opens the top of a beer can and effectively turns it into an aluminum "drinking glass." This makes beer taste better because you can better experience the aromas. It's also a hit at parties.
The Draft Top has a series of four circular blades, not unlike those on a can opener. When you grip the top of a can and twist, it cuts the top off and folds the sharp edge over so you won't cut yourself. The guys created the invention because they are active, outdoorsy people and they often find themselves in situations where the only acceptable vessel for beverages is cans.
A Draft Top  will cost you $25 on Amazon. The company also does custom orders for wedding gifts and promotional items. They claim over $1 million in sales, but that could be from their crowdfunding campaigns. They did a Kickstarter and an IndieGoGo campaign and raised around $1.4 million. Other than publicity, they likely want a Shark to help with manufacturing as they had some hiccups in that department.
My Take on The Draft Top
I've been laying off the beer so far in 2021 as I am on a keto diet, but I do like beer. I don't often drink from a can, but I get the whole aroma thing. Usually, I just bring along a Tervis Tumbler in my cooler if I'm hauling cans, so I don't know if I'd use this.
As a beer drinker I do like the novelty of the idea. I can see drawing a crowd if you bust out a Draft Top at a party. I like the idea of having it for a promotional item. As a connoisseur of swag, I would definitely grab one of these from a trade show table.
With Sharks Top Off a Deal?
I'm thinking no deal here. The reason is, the company Facebook page is goofing on Patrick saying he looks like he's going to cry. If you're crying in the Tank, it's usually a sign things are not going well. Of course they could be tears of joy, but those are usually shed in the hallway.
This isn't a knock on the product, but I fear the "it's a product, not a company" objection will get dropped on the guys.