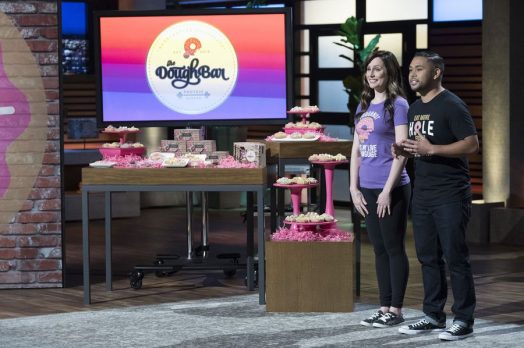 Ondrea Siniari and Marques Fernandez, a husband and wife team from California, want the Sharks to sink their teeth into The Dough Bar, their line of protein bars disguised as doughnuts. Their doughnuts eliminate most of the bad stuff found in regular doughnuts. Instead of frying them, they're made from yeast-based dough with wheat and malted barley flour. Each doughnut has 11 grams of protein.
The couple believe in staying active and eating right, but they still like occasional "cheat treats." This led them to create The Dough Bar. They list all their nutritional information on their website, so you know exactly what you're getting before you buy. For their glazed doughnuts, they ship the glazing in a separate package so you have a choice.
They're branching out with other sweet treats,too. They launched their protein crisp bars with a successful Kickstarter campaign that raised $20,887 back in the fall of 2016. These treats are a protein bar that tastes like Rice Krispy treats! The couple believes in eating healthy and giving back to the community. Each month, they donate a portion of their sales to local organizations that fight childhood obesity and promote healthy lifestyles.
A four-pack of doughnuts costs $15. They have everything from plain doughnuts to fancy concoctions like Oreo Crumble to seasonal offerings. They also offer a variety pack of 12 doughnuts for $39. All the online reviews say The Dough Bar doughnuts are delicious. The couple likely wants a Shark to help build their wholesale business. Will a Shark bite on these doughnuts and invest?
The Dough Bar Company Information
Video

Posts about The Dough Bar on Shark Tank Blog
The Dough Bar Shark Tank Recap
Ondrea and Marques will pitch the panel of five Sharks on the business and its prospects for growth. They'll need to convince Mark Cuban, Barbara Corcoran, Robert Herjavec, Lori Grenier, and Alex Rodriguez that the company is worthy of a Shark investment. A good business plan, good financials, and sales data will impress the Sharks, but they'll need to show them THEY are capable of running the company to "Shark standards." A full pitch re-cap on The Dough Bar will be available on Shark Tank Blog once this episode airs.
The Dough Bar Shark Tank Update
The Shark Tank Blog constantly provides updates and follow-ups about entrepreneurs who have appeared on the Shark Tank TV show. Once an episode has aired, we monitor the progress of the businesses featured, whether they receive funding or not and report on their progress. The Shark Tank Blog will follow-up on The Dough Bar & Ondrea Siniari and Marques Fernandez as more details become available.