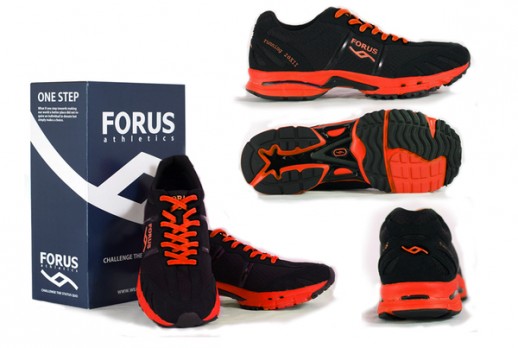 Joel Vinocur and Arsene Millogo enter the Shark Tank in episode 629 seeking an investment for Forus Athletics, their line of ultra-light, high-tech running shoes. The company got it's start in 2009 when Vinocur and Millago, along with 3 other partners from Indiana University, decided their running shoes sucked. They were sick of "heavy" shoes that didn't provide adequate support and required after-market insoles. Three years later, they ran a successful IndieGoGo campaign, raising over $48,000 to fund their first production run.

The shoes have many innovations, including a comfort insole. Forus has multiple patents issued and pending too. Their shoe design allows for maximum support when working out while providing quality shock absorbing capabilities and breath-ability. Forus Athletics weigh anywhere from 6-10 ounces lighter than standard running shoes. There are two models: Nytro 90x and Membrane Crypt, the latter shoes can be sent back to Forus for recycling and a 25% discount on the next pair. Other products include a line of back packs
Forus Athletics is a company with a social conscience. Their philanthropic vision is to donate 10% of global profits to children's charities. The company currently funds a nursery school in China for factory workers' children and scholarships for students who want to help children in the USA.
At $90 per pair, Forus Athletics are on par with other high-end running shoes. They are only available online as of the air date, but their website says they'll be available to the mass market soon. Could a Shark find the right fit with Forus Athletics?
Forus Athletics Shark Tank Recap
Joel and Arsene enter seeking $200K for 15% of their business. Arsene expalins how he came to America and ran track while in college. They make the shoes for $11 and wholesale for $35 a pair. They do most of their sales online and they did half a million in sales in six months. They're projecting $2.5 million next year.
Lori thinks there are too many big competitors, she's out. Daymond starts asking who reorders and they say everyone does which is why they are having trouble keeping up.  Mr. Wonderful thinks the battle is too big, he's out. Mark has other endorsement deals in place, but he's out. Daymond was on the fence, but he's out.
At this point, they explain their proprietary email marketing software. Robert thinks they have too many battles, but he's willing to invest if Daymond comes in with him. Daymond doesn't want to argue with Arsene on a regular basis, so he's still out. Robert is concerned about inventory control and won't do it without Daymond who remains out. Robert stays out.
RESULT: NO DEAL
Forus Athletics Shark Tank Update
The Shark Tank Blog constantly provides updates and follow-ups about entrepreneurs who have appeared on the Shark Tank TV show. Forus had major problems with customs and has many unfulfilled orders and unhappy customers. They continue to take orders, but appear unable to fulfill them. Despite taking people's money, they have not delivered product and their social media pages haven't been updated since October, 2015. It may be wise to find another pair of sneakers, use caution when dealing with this company and read the comments on bottom of this page and on this post before ordering!
Posts About Forus Athletics on Shark Tank Blog
Forus Athletics Company Information
Video