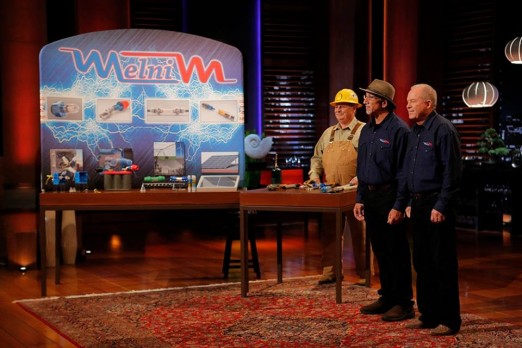 "Inventrepreneur" Mark Melni, along with Byron Dunn and Armand Eckert, pitch Melni Connectors in Shark Tank episode 627. Melni Connectors are a revolutionary, time-saving electrical connector that eliminates the need for crimping and soldering when connecting wires. Using the device can save up to twelve minutes (not to mention sore hands) per connection.
Melni, who owns a family electronics store, is also a classically trained concert pianist. He got the idea for the Melni Connector from the old Chinese finger trap – the tubular device you put your fingers into and can't get out of by pulling tighter. Melni figured if he could fabricate an electrical connector that got tighter as you tried to pull the wires apart, he'd be on to something big.
He invented the Melni Connector back in 2007 and received patents in September, 2010. The connectors were tested at Underwriters Labs and passed all standards with flying colors. In March 2014, Melni manufactured the first molds for Melni Connectors. There are also 6 new, specialty connectors in development that use the same technology.
With a revolutionary product in its infancy, Melni is likely looking for a Shark to help fund production. Will Mr. Melni connect with a Shark?
Melni Connectors Shark Tank Recap
Mark, Byron, and Armand enter seeking $500K for 5%. Byron demonstrates the current way to crimp an electrical connection – it takes a few minutes and it looks hard to do. The Melni connector takes about ten seconds.
Robert wants to know if it's safer – it is. They make the product for $15 and sell it for $39. They have one order for $585,000. Kevin thinks the valuation is high based on that one sale. Armand explains they have many products, but as a lineman, he invested $50K based on the quality of the connector.
Mr. Wonderful thinks they have a better mousetrap, but he's out with "extreme prejudice." They project $6 million in sales for next year, but Barbara's out. Lori thinks she isn't the right Shark, she's out. Robert likes the product but he thinks the guys aren't focused, he's out.
Mark knows nothing about the business, but he thinks it's something big. He calls it "FOMO (fear of missing out) investing." Mark likes that Armand invested on the quality of the product and offers $500K for 12% with an option to buy additional shares. They want to make a call and Mark says no, make a decision. They accept the offer!
RESULT: DEAL with Mark for $500K for 12% plus an option.
Melni Connectors Shark Tank Update
The Shark Tank Blog constantly provides updates and follow-ups about entrepreneurs who have appeared on the Shark Tank TV show. Since appearing, the company worked hard getting an Underwriters Laboratory listing and 7 international patents for the business. Mark Cuban invested an additional $1 million and a large electrical supplies distributor invested as well. The company started shipping product in early 2018. For more info, read this Melni Connectors Update interview with Mark Melni.
In this update, Mark says it took three years to start shipping because of the 7 patents on his connectors. He wanted to make sure everything was good to go for testing and certifications too. On Dec, 27, 2017, the Melni Splice Connector received UL certification. As of October, 2022, they are shipping product and have revenue of $3 million.
Posts About Melni Connectors on Shark Tank Blog
Melni Connectors: Key Ingredients of a Successful Pitch
Melni Connectors Update Interview
Melni Connectors Company Information
Video