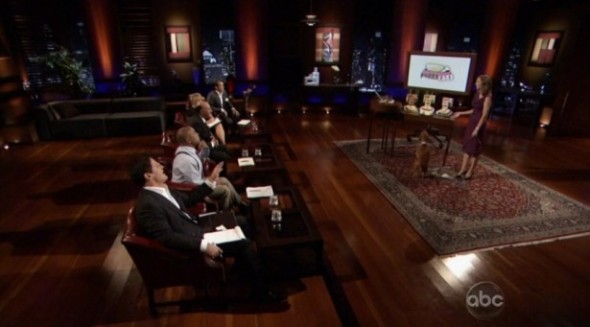 In Shark Tank episode 304, Kelly Chaney presents her idea for Puppy Cake, a product that allows pet owners to provide their beloved pooches with baked treats that include ingredients that are kind to a doggy's sensitive digestive tract. She got the idea after seeing a colleague's commercials for baked goods, and thinking of how much her own pampered pooch would enjoy a sweet treat now and then.
She studied canine nutrition, and developed several flavors of mix-and-bake dog treat mixes. The products are similar to cake mixes for humans. The pet owner simply adds eggs, oil, and water, and bakes or microwaves the treats. They even come with a yogurt "frosting" mix. Dogs eat the idea up, but will the Sharks snap at this sweet idea?
Puppy Cake Shark Tank Recap
Chaney is seeking an investment of $50,000, and offering 25% of her business. She brings her own dog, Minnie, to demonstrate how much dogs enjoy the treat. Robert Herjavec wants to know why pet owners can't just buy a regular cake mix. Chaney explains that her Puppy Cakes are specially designed not to upset the pet's tummies.
Kevin O'Leary gets right to the point, asking about sales. In four years, Chaney has sold $80,000 worth of product. It's not enough to entice interest from the Sharks. Sales have been steady, but not overly impressive. Lori Greiner wants to know how she's marketing the Puppy Cake brand. The treat mixes are in 150 retail stores, as well as online. Chaney has a solid foothold in the market, but is that strong enough to make up for the low sales numbers?
Kevin O'Leary wants to know "What percentage of the population is going to say, Honey, let's not make dinner for the kids. Let's make it for the dog!" Chaney needs to convince the Sharks that there's a strong market for her product if she's going to make a deal. She responds to O'Leary's criticism with strong facts, like the number of dog owners who celebrate their dog's birthday's. Mark Cuban wants to know why her business hasn't grown larger in the four years. Chaney explains that she feels her own lack of connections and sales skill holds her business back.
Who's In?
Robert Herjavec feels that the product is a novelty. He's out. Kevin O'Leary doesn't see the profit potential, telling her to "stop this madness." He's out. Lori Greiner believes that the market is "too limited." She believes Chaney needs a "full range of gourmet products" for dogs to be successful. She's out.
Mark Cuban believes she has a good product, but he tells her that she "didn't feel that her back was against the wall enough to break through personal barriers," and he "can't see writing a check for someone who finds the excuse instead of the opportunity." He's out.
Only one Shark remains. Daymond John isn't a big enough dog lover to be interested in the product. The final Shark passes, and Chaney leaves the Tank without a deal.
Puppy Cake Shark Tank Update
Chaney walked out of the Shark Tank without a deal, but with a new perspective on her business. In her exit interview, she said that she appreciated the Sharks pointing out her weaknesses, and that she needed to keep pushing forward to make her business successful. It seems that she has stayed true to her vision. Her website is still active and selling product, and she appears to have taken Greiner's advice to heart. After the Shark Tank, Chaney was able to land a licensing agreement with Uncle Jimmy's Brand Products. She's added several specialty products to her line, like "Hoggin' Dogs" ice cream and sales are growing. As of July, 2021, she has products in hundreds of independent pet stores as well as Amazon. Annual revenue is $1 million.
Posts about Puppy Cake on Shark Tank Blog
Puppy Cake Founder Kelly Chaney
Company Information