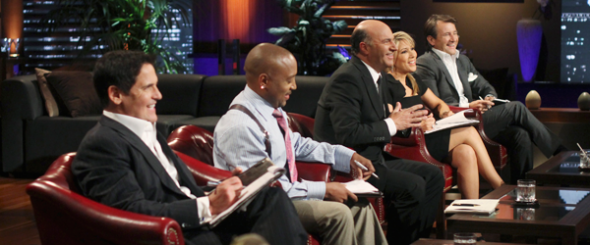 Episode 304 originally aired February 10, 2012. Four entrepreneurs pursue their dream of partnering with one of the wealthy Sharks and making it big in business. Ivori Tennelle wants t0 find a fit for the Swilt, a combination hooded sweatshirt and blanket aimed at sporting parents. Shelly Ehler seeks an investment for he Show No Towel, a towel with a slit that allows kids to change their swim trunks while retaining a level of modesty. Kelly Chaney wants to cook up a deal for Puppy Cakes, her line of cake mixes for dogs. Eric Corti pitches the Wine Balloon, an inflatable bladder that preserves wine inside the bottle after it's opened.
Which businesses get an investment from a Shark?
Success stories are shown every week, and Shark Tank Episode 304 updates fans on D.J. Stephan & Sean Conway who pitched their website, Notehall, in episode 108 of season 1. The made a deal with Barbara on the air but scored really big when they were bought by textbook rental giant, Chegg. Stephan and Conway got hired by Chegg and became instant millionaires when they closed the deal.
There are 15 Shark Tank Episodes for Season 3. If you would like to appear on the show, check out our Auditions and Casting information.
Episode 304 – The Shark Investors and Entrepreneurs
The Shark Tank Episode 304 entrepreneurs make their best pitch to the panel of five Sharks who invest their own money if they like a business. The Shark Investors negotiate on the spot without any previous information, which differs from normal negotiations with investors.
Companies pitching the Shark Investors must go through a rigorous due diligence process before the deal made on the air is completed. Shark Tank Blog follow ups help you keep track of the companies that end up successful and the ones that don't complete their deal.
Thank you for reading Shark Tank Blog, the number one site for Entrepreneurs, Investors and Fans. Our content is updated multiple times day, giving you the latest information on Episode 304 Season 3 and all other seasons and episodes.