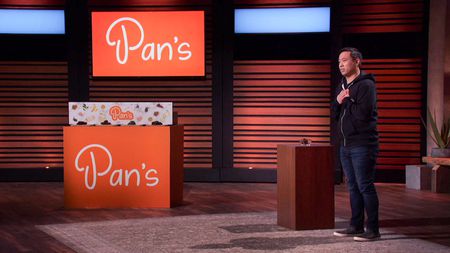 Michael Pan gives the Sharks a taste of Pan's Mushroom Jerky, his vegan beef jerky substitute, in Shark Tank episode  1206. Pan is an electrical engineer by profession. He got his degree at the University of Illinois in 2001 and worked as an engineer in the auto industry for a number of years. When he went to visit family he never met before in Malaysia, his life and livelihood would change forever.
On that trip, he met family that were vegetarian Buddhist monks. They fed him all kinds of wonderful food, but what really caught his attention was dried mushrooms or mushroom jerky. Apparently, the recipe was in his family for years. Mushrooms are a good replacement for meat and a great source of vitamins, fiber, and antioxidants.  For several years after that trip, he experimented in his kitchen and perfected his mushroom jerky making skills.
In 2018, he took the plunge and started the business. It's made with shiitake mushrooms and it's vegan, high in fiber and vitamin D, paleo-friendly, Kosher, soy-free, gluten-free, and  it's all organic. There are no preservatives either. Pan's Mushroom Jerky comes in four flavors: Original, Zesty Thai (the # 1 seller),  Applewood BBQ and Salt & Pepper. A 2.2 ounce bag costs nine bucks, but when you buy the variety 4 pack on Amazon, it's just $35. Pan has his jerky in over 500 stores nationwide, but no big box chains. He'd like a Shark's help remedying that situation.
Company Information
Video

Posts about Pan's Mushroom Jerky on Shark Tank Blog
Pan's Mushroom Jerky Shark Tank Recap
Michael enters seeking $300,000 for 10% of his business. He tells his story and hands out samples. He's looking for a Shark to help him become a leading brand in the veggie jerky space. He's currently in 750 Whole Foods Stores. His sales are 60% retail and 40% online. 2019 sales were $755,000 and he's already at $620,000 midway through 2020.
The offers start coming because the Sharks like the numbers. Lori and Blake team up to offer $300,000 for 30% – 15% each. They put the hard sell on Michael, touting relationships with Starbucks and other big chains. Mark comes in and offers $300,000 for 20%. Michael counters with 18% and he does the deal with Mark.
Pan's Mushroom Jerky Shark Tank Update
The Shark Tank Blog constantly provides updates and follow-ups about entrepreneurs who have appeared on the Shark Tank TV show. In the week following the original air date, they did over $1 million in sales. The first re-run of this episode is just two months after the original air date. The company appears to still be very much in business but they're out of stock on the company website and on Amazon.
The deal with Mark did close. It appears Pan's ran into some major shipping issues in the aftermath of Shark Tank – that's why they were out of stock at the first re-run. They added more shifts and more employees to keep up with demand. Several large snowstorms – including one that shut Portland down for four days – also slowed their fulfillment.
The company gets an update segment in episode 1220. In the update, we get a look at the new production facility and learn about how sales have expanded. As of June, 2021, the company has annual revenues of $3 million. By July, 2022, the products were in over 3500 retail locations including Krogers, Wal Mart, H-E-B, and many others. As of January, 2023, annual revenue is now closer to $5 million.