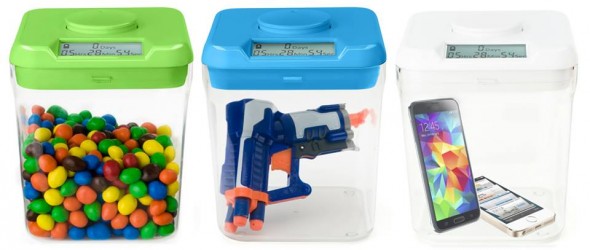 Inventors and entrepreneurs David Krippendorf and Ryan Tseng, pitch The Kitchen Safe, a time locking container, in Shark Tank episode 612. The Kitchen Safe is a food storage container with a time lock lid. Simply put whatever you want in The Kitchen Safe, lock the lid, and you can't get at what's inside until the timer expires (there are no overrides). Krippendorf came up with the idea as a way to force some self-control on himself and curb his cravings for cookies.
The concept is pretty simple: if you have some junk food around that you fear you might eat in a binge session, you can lock it away for a reasonable period of time. The Kitchen Safe is made of food-grade, BPA free plastic, but it can store more than food. Parents can lock away toys and people use it for cell phones during dinner time!
The Kitchen Safe got funded on Kickstarter in July, 2013. They managed to raise $42 K to get their first production run going. The product is available on Amazon and through the company website. They're most likely looking for a Shark to help with big box distribution and for cash to fund orders.
Will a Shark lock up a deal for The Kitchen Safe?
The Kitchen Safe Shark Tank Recap
David and Ryan enter and enthusiastically pitch their product. They're seeking $100K for 5% of KitchenSafe. As they demo the product, the Sharks giggle at their wacky pitch. David explains it's a "commitment device" that helps with temptation. They hand out samples to the Sharks.
Mark balks at the inability to over-ride the product, but the other Sharks refute his objection. They've sold $300K in 11 months and have a purchase order with HSN. They cost $14.50 and sell it for $49 retail. Mr. Wonderful thinks it's too expensive. They have 4 patents pending and they think the product belongs at retail.
Who's In?
Nick Woodman thinks the name limits their brand. Then the Sharks question the valuation. David says they're offering the business at a discount to the Sharks. Mr. Wonderful calls it a piece of crap and David gets emotional. The other Sharks tell Kevin to stop talking. Lori jumps in and says she's going to make an offer and Mr. Wonderful goes out. David vehemently defends his product and argues with Mr. Wonderful before Lori can make her offer.
After a commercial break, Daymond says he likes their passion and offers $100K for 20%. David says he built the product to help people. Lori then offers $100K for 20% if they go with QVC instead of HSN. Nick comes in and offers an additional $100K to go in with Lori for a total of $200K for 30%. Daymond and Lori battle a little as Nick and Lori chat. They offer $100K for 20% and they say they both believe in them.
The Kitchen Safe guys counter with $200K for 10%, Nick and Lori say no. Mark says he's not out and Daymond gets aggravated they're ignoring him. They do the deal with Nick and Lori.
RESULT: Deal with Nick and Lori for $100K for 20%
The Kitchen Safe Shark Tank Update
The Shark Tank Blog constantly provides updates and follow-ups about entrepreneurs who have appeared on the Shark Tank TV show. The deal with the Sharks never closed, but they took Nick's advice and changed the name to kSafe. They also introduced a smaller model which went on to become their best seller. Later, they added a medium and extra large size. As of March, 2023, the company is still in business with annual revenue of $5 million.
Posts About The Kitchen Safe on Shark Tank Blog
The Kitchen Safe Information
Video