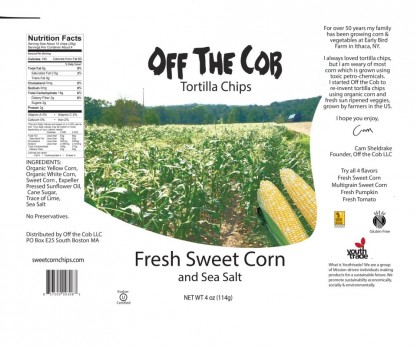 Cameron Sheldrake introduces the Sharks to Off the Cob Tortilla Chips, his snack business the features natural corn tortilla chips, in Shark Tank episode 612. Cameron is yet another successful Kickstarter business appearing on the show; his project successfully raised a little over $15K to ship the first pallets of Off the Cob Chips to 28 Boston area Whole Foods markets back in October, 2012.
Off the Cob Chips have six ingredients: sweet corn, certified organic GMO free yellow corn, certified organic GMO free white corn, expeller pressed sunflower oil, cane sugar and sea salt. The corn Off the Cob uses is grown on small farms throughout the American Midwest. The corn Cameron uses makes a lighter, sweeter chip that's also better for you than most processed chips.
Cameron grew up on a family farm in Ithaca, NY – which is where he got his passion for and knowledge about organic foods. The 2012 graduate of Babson College always dreamed of being an entrepreneur and when he formulated his chips, he went for it! Like most food entrepreneurs who appear in the Tank, he's likely looking for cash to fund inventory and help with getting national distribution.
Will a Shark take a bite out of Off the Cob?
Off the Cob Tortilla Chips Shark Tank Recap
The segment opens with Cameron on the family farm where he reveals they throw a lot of sweet corn away each year. He invented Off the Cob to stop wasting it. Cameron enters the Tank seeking $100K for 15%. He explains the difference between grain corn and sweet corn. Sweet corn is what you eat when you cook corn on the cob. The Off the Cob chips taste better! He hands out samples and Nick Woodman compliments Cameron on the name and the packaging.
He's in 45 stores now and Lori says she never knew there was a difference between grain and sweet corn. Grain corn costs 30 cents a pound and sweet corn costs $5 a pound. Mr. Wonderful balks at the price differential. Cameron says he's going into 100 stores and is getting in with a major snack food distributor. He sells to distributors for $1.60; it costs 85 cents to make each bag.
Mr. Wonderful goes out because of the challenges involved. So do Mark and Daymond. Lori loves the chips but thinks it will be too hard to scale. Nick says he's not price sensitive and the marketer in him wants to invest in it, but he's out. Nick says he wants Cameron to stick with it and he thinks he'll be successful. Cameron says he's going to keep doing what he's doing and keep selling chips.
RESULT: No Deal
Off the Cob Tortilla Chips Shark Tank Update
The Shark Tank Blog constantly provides updates and follow-ups about entrepreneurs who have appeared on the Shark Tank TV show. Cameron went back to the farm. This company is out of business.
Posts About Off the Cob Tortilla Chips on Shark Tank Blog
Off the Cob Tortilla Chips Information
Video