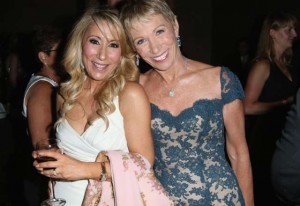 The two female sharks, Barbara Corcoran and Lori Grenier will FINALLY be on the panel at the same time during season five! ABC Radio announced the news today, though they stopped short of saying how many episodes will feature the two popular female sharks. Shark Tank fans have clamored for Barbara and Lori to share the stage since Grenier joined the panel in Shark Tank season 3.
Corcoran and Grenier have publicly stated they'd like to appear together in the past, but until season 5, it hasn't happened. Shark Tank is very popular with the 18-54 year-old female demographic and the show champions strong, woman entrepreneurs on a regular basis. It seemed natural for the two high-powered women to appear onstage together.
Do Female Sharks Have a bigger bite?
One of the most popular reasons people watch Shark Tank is the interplay and competition between the Sharks. With two female sharks on the panel, there should be more balance and it could make for some interesting TV.
So many questions come to mind when envisioning Corcoran and Grenier on the panel together. Will they engage in a vicious shark fight? Will they champion each other? Will they do a deal together?
Grenier told ABC Radio "the entrepreneurs on the upcoming season are a little wiser and a little more confident than the ones we've seen in the past. They have watched, they have studied, and they're coming in very savvy. That is to their benefit sometimes, and to their detriment sometimes."
Shark Tank Season 5 features two new male Sharks. Film and TV producer and NFL executive, Steve Tisch and Hair Care Tycoon and Philanthropist John Paul DeJoria join the panel as "guest sharks."
With some new blood in the Shark Tank and the two popular female Sharks sharing the stage, season five should feature bigger deals and some wild Shark fights!