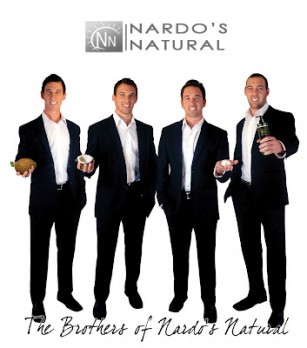 The Nardo Brothers, Season 3 Shark Tank entrepreneurs who scored a deal with Barbara Corcoran for their all-natural, organic, skin care products recently informed me a Nardos Natural Update Segment was filmed for broadcast sometime during season 5. Since I first visited with the Nardos during season 3, they've grown their business exponentially and are poised for tremendous success! Kyle Nardo, the company's marketing guru (and fellow hot dog aficionado) has kept me abreast of developments with the growing business as they occur.
Nardos Natural Update Segment features new products and packaging
Kyle credits Barbara Corcoran as a big part of the success of Nardos Natural and that sentiment is sure to be expressed during the Nardos Natural Update Segment. Kyle says Barbara has been a great mentor and adviser while helping get the business and its products the recognition that only the "Shark Tank Effect" can provide.
The Nardo Brothers, despite last spring's tragedy, have managed to open a retail spa, create new packaging, develop a muscle rub, and get All Star pitcher David Price of the Tampa Bay Rays (and hopefully Boston Red Sox after his free agency)  to endorse their products. Much of these endeavors have been a result of their own hard work and dedication, but Barbara has guided and advised them throughout.
Kyle provided my wife and I with some of their products and we BOTH LOVE them. We use their tanning oil all summer and the Body Lotion (Barbara's favorite) really helps moisturize dry skin during the summer tanning season. The lip balm is also a constant companion in my pocket. The skin care products smell nice and really work well on my skin without feeling "chemically." THAT's an endorsement from a guy who doesn't use many "potions and lotions!" Check out their products here.
The exact air date of the Nardos Natural Update Segment hasn't been revealed, but it should be an episode where Barbara appears. Maybe it will be when Lori and Barbara appear together!