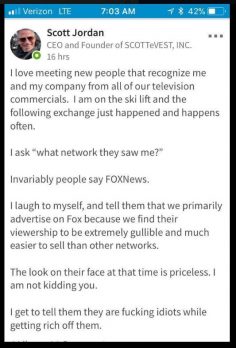 Scott Jordan appeared in season three of Shark Tank in what was, at the time, the highest watched Shark Tank episode to date. It was a wild and entertaining episode. He refused to say the name of his business – ScottEvest – because if he did the producers would have a claim on 5 percent of his business. That contractual language was removed in season four at the request of Mark Cuban who felt good companies wouldn't come on the show.
Speaking of Cuban, he called Jordan a "patent troll" and the ensuing Twitter war between Scott Jordan and Cuban became legendary. In the ensuing months, Mr. Jordan wrote for the Shark Tank Blog and an online "friendship" developed between him and I. He's outspoken, intelligent and he's built a successful business. I enjoyed our conversations, I even wrote the forward to a book he wrote.
Scott Jordan UNfriends me
Scott leans to the liberal side of the political spectrum while I tend to be more Libertarian. During the election in 2016, I engaged in several political discussions with Mr. Jordan on Facebook. We disagreed on literally everything except medical marijuana. I enjoy spirited, informed political discussions. While I don't always agree with other people's views, I am willing to hear them out if they extend the same courtesy. Scott Jordan did not.
He had a policy on his personal Facebook page that if you didn't agree with his politics, he'd UNfriend you. He did this to me – twice. The first time was the fall of 2016 during the election. After the election, he extended the olive branch an re-friended me. One day, I posted a quote from Hillary Clinton  on my Facebook page:
"We owe him an open mind and a chance to lead."
That was Hillary's response to Trump's election. Sober, lucid words from a vanquished political opponent, as most would agree. When Scott saw the post, he went ballistic, sending all kinds of wild messages asking if I support the President. When I said "yes," he unfriended me again!!! I chalked it up to intolerance and didn't think about it. Most of his Facebook posts are full of self aggrandizing fluff and pictures of his poodles anyway, so I wasn't losing sleep over it.
Scott Jordan Insults Customers
Jordan and his company, ScottEVest (which he stepped down from last year) advertise heavily on Fox News Network. I always found it ironic that a guy with such left-leaning views would advertise on The Hannity Show. When you own a thriving business selling consumer products, it's usually a good policy not to piss them off. Unfortunately for Mr. Jordan, he missed that tidbit in Marketing 101 at Case Western. Last Sunday, he posted on his Facebook page that his customers who watched Fox News were "extremely gullible" and "easier to sell." He then went on to call them "fucking idiots." (see the screenshot at the top of this page) Not the best marketing strategy by a long shot!
The backlash on social media was immediate and ferocious. Generally speaking people, whatever network they watch, don't like being called "fucking idiots." I received hundreds of comments on this post, many of which went unpublished due to their prurient and in some cases hateful language.
Apologies and Denials
ScottEVest, the company, took immediate action, posting this on their website:
he recent offensive and inexcusable social media post by Scott Jordan does not reflect the views of SCOTTeVEST. In 2017, Mr. Jordan stepped down from the management of SCOTTeVEST and he is not involved in our daily operations.

We are extremely sorry for his unacceptable comments. Mr. Jordan's post was impulsive and inappropriate for too many reasons to list, and rightfully offended so many people.

We strongly disagree with the views expressed by Mr. Jordan.
Jordan himself apologized, too: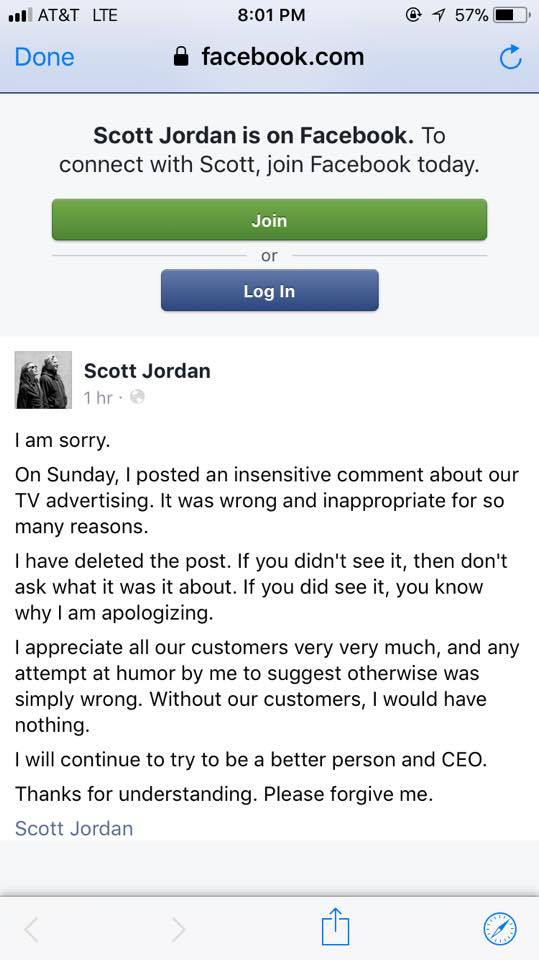 I truly believe Scott is sorry, for hurting his sales. He called his statements "humor," but anyone familiar with his political bent knows that's how he really feels. While he might temper his online activity for the time being, you can't teach an old dog new tricks. What he did probably hurt his brand, whether it's a permanent injury or just a blip remains to be seen, but when you publicly insult a group of people, memory is long.
Scott Jordan, meet this bitch: Karma.