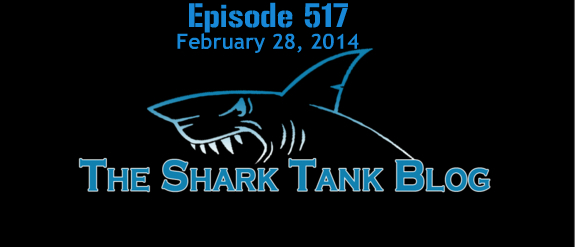 It's a Lady Shark night in episode 517 as Barbara and Lori are in the Tank together again! Four new business owners and entrepreneurs look for an investment from the Sharks.
Marshall Haas & Jon Wheatley, two serial entrepreneurs, pitch a combination fitted sheet/duvet cover called Smart Bedding that's designed so you never have to make your bed again. An Atlanta area pediatrician, Dr. Amy Baxter, shows how to take the ouch out of getting a shot with Buzzy, a physiologic pain blocker that uses cold and vibrations to ease the pain of needles. Lori Cheek pitches Cheek'd her dating service in reverse that uses decks of personalized cards to approach potential dates. Husband and wife team Irene and Noam Krasniansky introduce the Sharks to Bambooee, a reusable cleaning cloth made from bamboo designed to replace paper towels.
Who gets a deal and who gets "Tanked?"
Dallas Robinson and Mike Buonomo and their wildly successful flavored lip balm, KissTixx, are featured in the episode 517 update segment. The college room mates turned business partners scored a deal with Mark Cuban back in season 3. Cuban called KissTixx one of his most successful Shark Tank investments and the business has thrived since their initial appearance. KissTixx is in several national retailers and is now a multi-million dollar business!
There are 28 Shark Tank Episodes for Season 5. This season features two new Sharks and a host of other surprises. Casting is currently closed, but it never hurts to get a head start on season six! If you would like to appear on the show, check out our Auditions and Casting information.
Episode 517 – The Shark Investors and Entrepreneurs
The Shark Tank Episode 517 entrepreneurs will make their best pitch to the panel of five Shark investors who will use their own money if they choose to invest. The Shark Investors negotiate on the spot without any previous information, which differs from typical negotiations between venture capital investors and entrepreneurial start-ups.
Companies pitching the Shark Investors must go through a rigorous due diligence process before an on-air deal is completed. Shark Tank Blog follow ups help you keep track of the companies that end up successful and the ones that don't complete their deal.
Thank you for reading SharkTankBlog, the number one site for Entrepreneurs, Investors and Fans. Our content updates multiple times day, giving you the latest information on Episode 517, Season 5, and all other seasons and episodes.