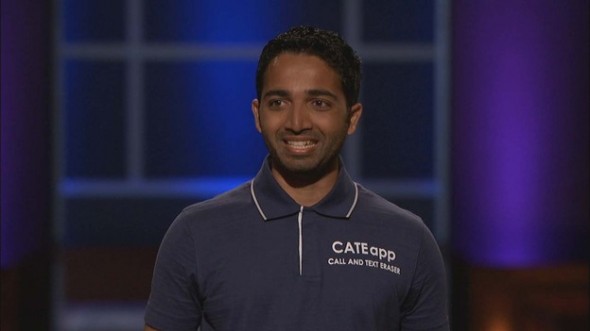 Cate App is known as the cheater's app because it allows people to hide text and voice messages on their smart phone devices. The Cate App was developed by a West Palm Beach police officer named Phil Immler who created it to prevent people from viewing significant others' "secret" texts and conversations. As a cop, he witnessed many domestic disputes resulting from people going through significant others' messages and hoped the App would help reduce domestic violence. CATE is short for "Call and Text Eraser;" any messages from people you designate on your list will be completely hidden within the App. Entrepreneur Neal Desai purchased the Cate App from Immler with his sister and brought it to the next level, and the Shark Tank.
The Cate App Pitch
Desai entered the Shark Tank looking for $50k for a 5% share of the business. As of taping, there were around 5,500 subscribers. At $4.99 per download, Desai has just north of $27K in revenue. Robert immediately questions the morality of the App. He's out. Mark doesn't like it, he's out too. Daymond and Kevin agree to team up, but Barbara jumps in and offers 50K for 30% if Neal will consider re-branding it as a privacy app. Kevin and Daymond are at $50K for 50% of the company and Neal counters the two offers on the table with $50K for 15%.
Daymond and Kevin drop to 35% and Barbara drops to 25%. Desai turns on the negotiation skills and gets Kevin and Daymond to go to $70K for 35%. The deal is done.
The Cate App Shark Tank Update
The deal with the Sharks never closed. In the immediate aftermath of the show, there were nearly 10,000 downloads. According to numerous reports, 70% of the downloads were by women! Only the smart phone owner would know the App is on the phone, there are no icons. Desai has also begun marketing the App to businesses, government agencies, and attorneys as a "privacy app." Any entity that needs to protect confidential communications can benefit from using Cate App. The dark side of the Cate app as a cheater's app is it can be downloaded on a phone without the user's knowledge, allowing someone to log all calls and texts. As of January, 2013, Cate App is only available for Android devices with an iPhone App ready "soon."  About a year after appearing, the app shut down.
Posts about Cate App on Shark Tank Blog
Company Info