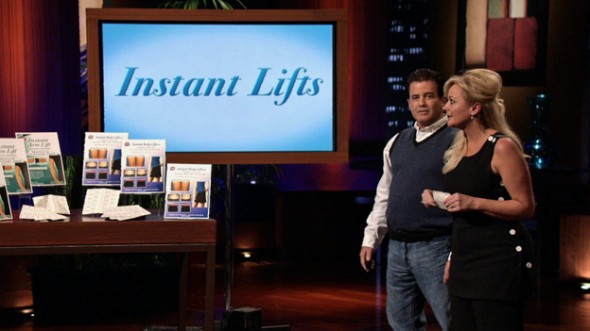 Instant Lifts entrepreneurs Nick and Penelope LaRosa dove in the Shark Tank in episode 309 with their Instant Lifts, a product that helps smooth out cellulite and wrinkles without creams or surgery. Essentially, they are a hi-tech tape that stretches and smooths out skin when applied correctly. The LaRosas have developed an adhesive  that lasts 12-17 hours. In addition to this product, the LaRosas make Smooth Sleepers, an adhesive tape that smooths out wrinkles around the eyes while you sleep. Only Instant Lifts, not Smooth Sleepers or any of their other products are being offered to the Sharks for consideration.
Instant Lifts Pitch
The LaRosas came into the Shark Tank looking for $100k for a 25% piece of their business. Penelope demonstrates how the tape lifts her sagging arm flab, causing Daymond, in one of his funnier remarks from season three,  to term the affliction "Bingo Wings." Nick and Penelope have around $75K in sales in the 5 months prior to taping their episode and they hope the Sharks like their product.
Nick and Penelope are only offering Instant Lifts to the Sharks, not any of their other products. Daymond goes out immediately. Mark thinks their focus won't be solely on this business since they'll be focusing on their other products too; without 100% commitment, he's out. Kevin and Robert are confused by the pitch and they're out too. Barbara likes the product, but thinks the value of the business is too high; she's out. Nick and Penelope leave the Tank without a deal.
Instant Lifts Shark Tank Update
The company continues to do business. The LaRosas have re-branded the product and now call it "Skinnies." The product line has expanded with adhesives for back fat, thigh flab, tummy flab, and muffin tops; far more options than the "Bingo Wings" adhesive offered in the Shark Tank. The business doesn't appear to be knocking it out of the park with sales, but it is a steady, viable product and business.
Over the years, this product really gained traction. In July, 2021, they say on their homepage they've sold over one million units. They're in a couple hundred small stores from pharmacies to boutiques across the country as well as on Amazon. As of June, 2022, annual revenue is $6 million.
Posts about Instant Lifts on Shark Tank Blog
Company Information