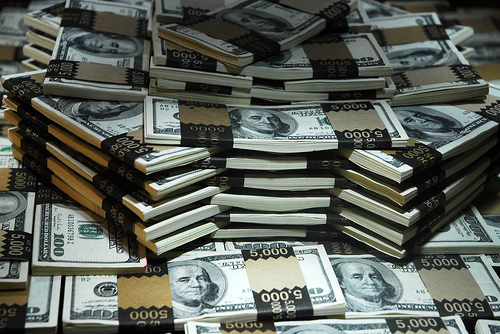 A million dollar offer has a nice ring to it, especially if you are the recipient of such an offer in the Shark Tank! According to ABC's PR machine, Mark Cuban and Lori Greiner team up to make a million dollar offer in episode 412 on Friday, January 4, 2013. After nearly a month without a new episode of Shark Tank, it looks like the "second half" of the season is going to start off with a bang!
A million dollars has a nice ring to it, and while there have been other deals on Shark Tank that got into these numbers, I don't think any have ever gone through.  It would need to be a business BOTH Mark and Lori like for them to team up on, which means the deal needs to meet certain criteria.
For Lori, the business would need to be a "hero." It would need to be a moderately priced item with mass appeal that would sell well online or on QVC (or both). Lori would also want some decent skin in the game. Mark would want the same things, but it would need to be a business that he can bring some value to and he'd need to like the entrepreneur.
Who gets a million dollar offer?
Who will be the recipient of the million dollar offer and will the entrepreneur accept? These are both intriguing questions! Lets examine each of the entrepreneurs that will appear in episode 412.
ArKeg is a very cool business that produces video game cabinets with a built-in beer tap system! The video "drink n game" console is something Mark might take a flyer on because it's kind of cool, but I can't see Lori being terribly interested in this business (she's more of the Chardonnay type). The remaining three entrepreneurs and businesses all meet the criteria for a Lori and Mark combined million dollar offer.
The Game Face Company, which makes temporary face tattoos, appears to have growing sales in an as yet untapped market. The mass appeal and versatility of this item could garner a million dollar offer. They would demonstrate well on TV and they have a big sports/licensing tie-in.
Hot Tot, the kids hair care products company, is also growing. They have a vibrant online presence and they are in an as yet untapped niche. While on the surface it would seem this would be a "girl-card" product in Lori's wheelhouse, Mark is shrewd enough to understand good numbers and I can't rule out a million dollar offer from either Shark on this business.
My prediction for the million dollar offer
DURA Tent, the table top food screen product that protects out-door food spreads from flies and other insects is a bit of a sleeper, but it's my prediction for the recipient of the million dollar offer. First, it has an "as seen on TV feel" to it; the product demonstrates well on television which appeals to Lori. Second, it's unique; there is nothing like it on the market – at least not functionally, which appeals to both Mark and Lori. Third, it is moderately priced; that should appeal to both Sharks. Fourth, sales have been increasing over four years and the food screen product hasn't hit the mass market; Sharks like sales. Fifth, the product fills a real need; this also appeals to Lori and Mark. Sixth, The DURA Tent website recently got completely overhauled; while many businesses do this to prepare for a Shark Tank appearance, this redesign has a "million dollar offer look" to it.  Last, but not least, ABC has made it a point to say in their press releases that Dan Rothweil, the inventor of DURA Tent, has "trouble explaining the financial aspects of his enclosed tabletop food screen." This, to me anyway, seems like a case of ABC's PR machine "protesting too much" in relation to this pitch.
So there you have it. My prediction for the million dollar offer is DURA Tent! SharkTankBlog would like to hear your predictions. Please leave a comment with your prediction as to which business will receive the million dollar offer. I will take all the correct answers and put the names "in a hat" for a special Shark Tank product prize!
Who do you think gets the million dollar offer?
[gravityform id="2″ name="Episode 412 – Million Dollar Poll – Will You Win?"]