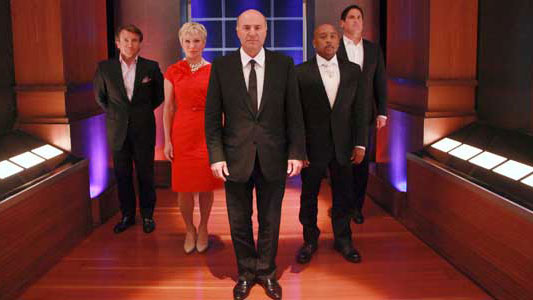 Shark Tank on July 13 (Friday the 13th) features one of the most polarizing characters from season three. The sharks appearing on tonight's Shark Tank are Barbara Corcoran, Mark Cuban, Robert Herjavec, Daymond John and Kevin O'Leary.
First up are college buddies and entrepreneurs Dallas Robinson and Mike Buonomo. They came into the Shark Tank pitching their fun and funky, chemically compatible lip balm, Kistixx.  They had a big order waiting in the wings and the sharks wanted in on the action. Mark Cuban made a play for their company and the two haven't looked back since. This segment has a fun surprise as two unlikely sharks lock lips!
Stephanie and Daniel Rensing bring their Smart Baker line of baking accessories into the Shark Tank. Stephanie, an unemployed teacher during the show's taping, has recently found a new position and their business has grown since they appeared.
Lyle Shuette brings his "common sense in a box" into the Shark Tank. The Sharks all like him, but they aren't too crazy about his Heat Helper.
The final segment is perhaps the most polarizing in Shark Tank history. Entrepreneur Scott Jordan and his Scott-e-Vest jumped into the tank seeking to license his "Technology Enabled Clothing." The editing was rather unkind to Mr. Jordan and Mark Cuban ripped into him. Cuban and Jordan carried on a very public argument about "patent trolls" in the aftermath of this episode. Ultimately, Jordan swung public opinion to his side, but he claims he hasn't seen the benefits of appearing on Shark Tank show up on his balance sheet.
The follow up segment is on Kim Nelson and Daisy Cakes. Barbara Corcoran funded this business in season two and Ms. Nelson has gone on to do millions of dollars in sales! Every time Daisy Cakes airs, their servers seem to crash- I hope they have upgraded for tonight's show.
Enjoy the Shark Tank on Friday the 13th.