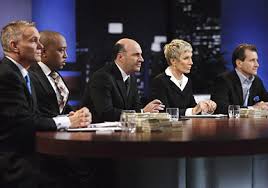 Episode 101, the very first episode of Shark Tank features five entrepreneurs pitching the panel of wealthy investors. Tod Wilson pitches his pie business, Mr. Tod's Pie Factory, a wholesale and retail bakery business that features his delicious pies. into the tank. Darren Johnson introduces Ionic Ear, a surgically implanted, blue tooth enabled hearing aid. Kevin Flannery wants the Sharks to bite on WiSpots, a wireless information kiosk designed for medical waiting rooms that allows patients to surf the internet while waiting. Nick Friedman & Omar Soliman seek an investment for College Foxes Packing Boxes, their business modeled after another successful business called College Hunks Hauling Junk. Finally, Tiffany Krumins wants to take her prototype children's medicine dropper, called "Emy the Elephant," (later changed to Ava the Elephant) from idea to mass production, with a little help from the Sharks. Which businesses get the Sharks to bite?
Episode 101 Air Dates
First Run – August 9, 2009
Follow up segments featuring past Shark Tank success stories are a regular feature on Shark Tank. Episode 101 was the very first Shark Tank show ever broadcast. Since the show was brand new, there are no follow up segments!
There were 14 Shark Tank Episodes for Season 1. Casting is currently closed, but it never hurts to get a head start on next season! If you would like to appear on the show, check out our Auditions and Casting information.
Episode 101 – The Shark Investors and Entrepreneurs
The Shark Tank Episode 101 entrepreneurs will make their best pitch to the panel of five Shark investors who will use their own money if they choose to invest. The Shark Investors negotiate on the spot without any previous information, which differs from typical negotiations between venture capital investors and entrepreneurial start-ups.
Companies pitching the Shark Investors must go through a rigorous due diligence process before an on-air deal is completed. Shark Tank Blog follow ups help you keep track of the companies that end up successful and the ones that don't complete their deal.
Thank you for reading SharkTankBlog, the number one site for Entrepreneurs, Investors and Fans. Our content updates multiple times day, giving you the latest information on Episode 101, Season 1, and all other seasons and episodes.