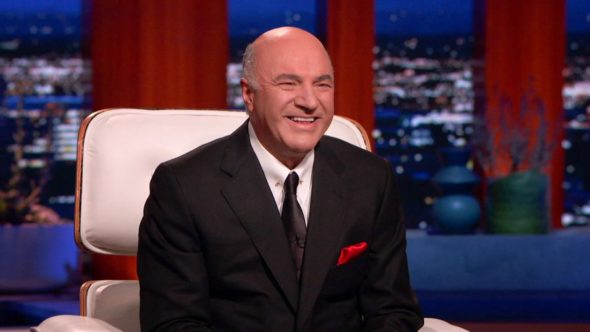 Shark Tank returns for the twelfth season in episode 1201. This year, due to Covid-19 lockdowns in California, the series was filmed in Las Vegas. In the season premier, guest Shark Blake Mycoskie joins Mark, Daymond, Kevin and Lori in evaluating four new businesses seeking a Shark's cash and mentorship.
Josh Aviv and Chris Ellis introduce SparkCharge, their portable electric vehicle charging stations. Bianca and Pete Badawy, a husband and wife team who are first responders, hope the Sharks smell an opportunity when they pitch GarmaGuard, their anti odor clothing spray. Wylie Robinson hopes for a deal for Rumpl, his blankets made from sleeping bag materials. Carson Grill and his dad, Jason pitch the Touch Up Cup, a container that stores paint for ten years. Which business leaves the Tank with a deal?
Tonight's update segment features a look at Blake Mycoskie's rise to entrepreneurial success.
Entrepreneurs
---
Update Segment – Profile on Blake Mycoskie
There are 22  Shark Tank Episodes for Season 12. This season features more appearances by "guest Sharks," including two returning guest Sharks: Alex Rodriguez and Daniel Lubetzky. In addition, two new guest Sharks will appear throughout season 12: Blake Mycoskie, founder of TOMS Shoes and MadeFor and Kendra Scott, founder of Kendra Scott, LLC, a fashion company she started in her spare bedroom in 2002 with $500. Casting is currently closed, but it never hurts to get a head start on season thirteen! If you would like to appear on the show, check out our Auditions and Casting information.
Episode 1201 – The Shark Investors and Entrepreneurs
The Shark Tank Episode 1201 entrepreneurs will make their best pitch to the panel of five Shark investors who will use their own money if they choose to invest. The Shark Investors negotiate on the spot without any previous information, which differs from typical negotiations between venture capital investors and entrepreneurial start-ups.
Companies pitching the Shark Investors must go through a rigorous due diligence process before an on-air deal is completed. Shark Tank Blog follow ups help you keep track of the companies that end up successful and the ones that don't complete their deal.
Thank you for reading SharkTankBlog, the number one site for Entrepreneurs, Investors and Fans. Our content updates multiple times day, giving you the latest information on Episode 1201, Season 12, and all other seasons and episodes.
Episode 1201 Press Release
Shark Tank: SEASON PREMIERE – Episode 1201 (10/16)
Oct. 1, 2020
SEASON PREMIERE
ABC'S 'SHARK TANK' RETURNS FOR ITS 12TH SEASON WITH BRAND-NEW GUEST SHARK BLAKE MYCOSKIE, FOUNDER OF TOMS & CO-FOUNDER OF MADEFOR, IN THE SEASON PREMIERE, FRIDAY, OCT. 16
"1201" – A father and his 15-year-old son from Cincinnati, Ohio, help the Sharks get creative while sharing their solution for storing paint efficiently. Two tech-savvy entrepreneurs from Somerville, Massachusetts, put the pedal to the metal when they show off their portable electric vehicle charger. A husband and wife from Milltown, New Jersey, think they can smell success as they pitch their product designed to keep garments safe from bacteria and odor, while an entrepreneur from Portland, Oregon, tries to convince the Sharks he's brought blankets into the 21st century on "Shark Tank," FRIDAY, OCT. 16 (8:00-9:01 p.m. EDT), on ABC. (TV-PG) Episodes can also be viewed on demand and on Hulu.
The Sharks in this episode are Mark Cuban, Kevin O'Leary, Lori Greiner, Daymond John and guest Shark Blake Mycoskie.