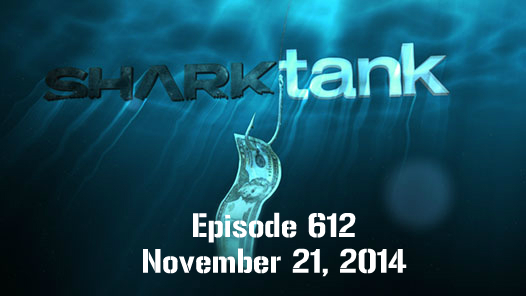 Four new entrepreneurs and a special "guest Shark" enter the Shark Tank in episode 612. Nick Woodman, "mad billionaire" inventor and founder of Go Pro Cameras sits in as a Shark in this episode. He replaces Robert Herjavec on the panel, making episode 612 the first episode Robert hasn't appeared in since Shark Tank started. Based on past guest Shark appearances, Mr. Woodman will make a deal, the question is, with who?
David Krippendorf and Ryan Tseng seek to lock up an investment for Kitchen Safe, a time-lock food storage container that helps keep snacking temptations under control. Speaking of snacks, Cameron Sheldrake pitches Off the Cob Tortilla Chips,the first organic tortilla chips made with real, sweet corn on the cob. Sharon Yu hopes to cook up a deal with a Shark for Magic Cook, a portable container that cooks food without batteries or electricity. Tom Sanetti hopes the Sharks get fired up about Earth-Log, a packaged fireplace log made from recycled clean waste paper and fully refined, scrap candle wax.
Which businesses will net a Shark tonight?
Tipsy Elves founders Evan Mendelsohn and Nicklaus Morton did a deal with Robert Herjavec for $100K for 10% of the business. Since then, Tipsy Elves went from $750K in annual sales to nearly $6 million. We'll get the full update on this business in episode 612.
There are 28 Shark Tank Episodes for Season 6. This season features the six "regular" Sharks and a host of other surprises. Casting is currently closed, but it never hurts to get a head start on season seven! If you would like to appear on the show, check out our Auditions and Casting information.
Episode 612 – The Shark Investors and Entrepreneurs
The Shark Tank Episode 612 entrepreneurs will make their best pitch to the panel of five Shark investors who will use their own money if they choose to invest. The Shark Investors negotiate on the spot without any previous information, which differs from typical negotiations between venture capital investors and entrepreneurial start-ups.
Companies pitching the Shark Investors must go through a rigorous due diligence process before an on-air deal is completed. Shark Tank Blog follow ups help you keep track of the companies that end up successful and the ones that don't complete their deal.
Thank you for reading SharkTankBlog, the number one site for Entrepreneurs, Investors and Fans. Our content updates multiple times day, giving you the latest information on Episode 612, Season 6, and all other seasons and episodes.