Chord Buddy
CHORD BUDDY UPDATE
There is a Chord Buddy update in episode 409. The business first appeared in the Shark Tank season 3 premier. Entrepreneur Travis Perry got big laughs when he said he was from "LA – Lower Alabama," but it was his sincere and heartfelt personality and desire to create a musical education product that landed him a deal with Robert Herjavec. Travis had four offers on the table, but opted to go with Robert (who claimed to be a wanna-be rock star) who invested $125K for 20% of the business with a pledge to kick in another $50K for an infomercial.
Chord Buddy Today
Travis Perry developed a system will teach anyone how to play a guitar in two months with his guitar learning system. You don't need a teacher, just a guitar, the Chord Buddy, a DVD player, and the lesson book. Travis pitched  his product in episode 301 to the Angel Investors.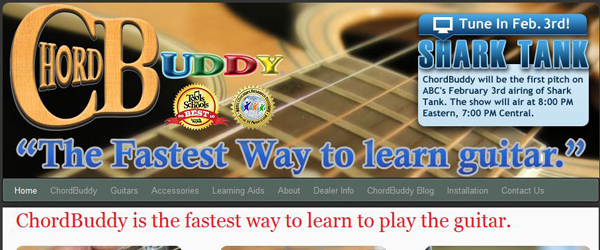 The Chord Buddy Pitch
Travis went into the Shark Tank looking for $125k for a 10% share in his business.  It is a two month guitar instruction system. The base kit comes with the Chord Buddy, Instruction book, DVD, a 2 month lesson plan and a song book with over 100 songs. He originally invented the product to teach his daughter how to play guitar. Travis entered the Shark Tank with $150K in sales. Mark goes out, even though he likes Travis, because he thinks Travis won't be able to go out and promote the product on the road.
All the other Sharks LOVE this product, and they make offers. Mr. Wonderful offers $125k for 20% of the business and offers to personally endorse it. Daymond John matches that offer and offers a celebrity endorsement. Robert also jumps in and offers $125K for 20%. Barbara offers $175K for 20% with $50K earmarked for an infomercial. Travis likes Robert because he's a family man, so he asks if Robert will match Barbara's offer. He does and Travis and Robert strike a deal!
Chord Buddy Shark Tank Update
Travis Perry was very well liked by both Sharks and fellow entrepreneurs alike. His "I'm from LA: 'Lower Alabama'" line is one of the more memorable entrepreneur quotes from season 3. Since his initial appearance, the product has sold very well on Amazon and the product is a huge success. Travis is featured in a follow-up segment in episode 409. In the update segment, we learn country music star John Rich is now endorsing the product. Travis also added adult and youth sized guitars and ukuleles to his line.
As of January, 2023, the company is still in business and earns $1 million annually.
Other Posts
CompanyInformation