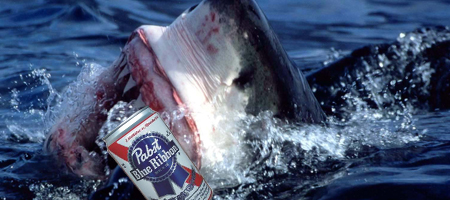 The Shark Tank Drinking Game could become a new, cultural phenomena. Shark Tank OWNS Friday nights. ABC has a real winner with everyone's favorite venture capital reality show. Whether you tune in to watch the Sharks go at it with each other, the interesting and diverse businesses, or the occasional train wreck of an entrepreneur, you're watching. In fact 6.5 million viewers watched the season premiere of Shark Tank. That's a lot of eyeballs!
Many people watch with family or friends. Sometimes, people make a party out of watching Shark Tank. Usually, at parties, there are some beverages. The next time you're watching Shark Tank with a group of people, you can liven things up with the next big thing to sweep America: The Shark Tank Drinking Game!
Cuban Coins Shark Tank Drinking Game
I got the idea for this from Mark Cuban. He was tweeting last Friday that every time Daymond John went out, you had to take a sip of your favorite beverage. Well, that gave me an idea. Since the most you could drink if Daymond went out all night would be 4 drinks, I decided to liven things up a bit. Unless you're drinking 180 proof moonshine, four sips is hardly going to "liven things up."
Here are the Shark Tank Drinking Game Rules:
Any time a Shark says, "I'm out," drink.
Any time Kevin O'Leary says, "you're dead to me," drink.
Any time Robert Herjavec cries, drink.
Any time Mark Cuban insults another Shark, drink.
Any time Daymond says, "Bingo Wings," drink.
Any time Lori plays the "girl's club" card, drink.
Any time Barbara is shown in a pink dress, drink.
Feel free to add your own rules, after all, this is supposed to be fun! Do share your new twists on this game in the comments section.
While my beverage of choice is a cold beer, you may play with whatever beverage you have available.
Remember, please be safe. Drink responsibly and NEVER get behind the wheel of a car if you have been consuming alcohol. Use a designated driver, you want to be able to play the Shark Tank Drinking Game again next week!