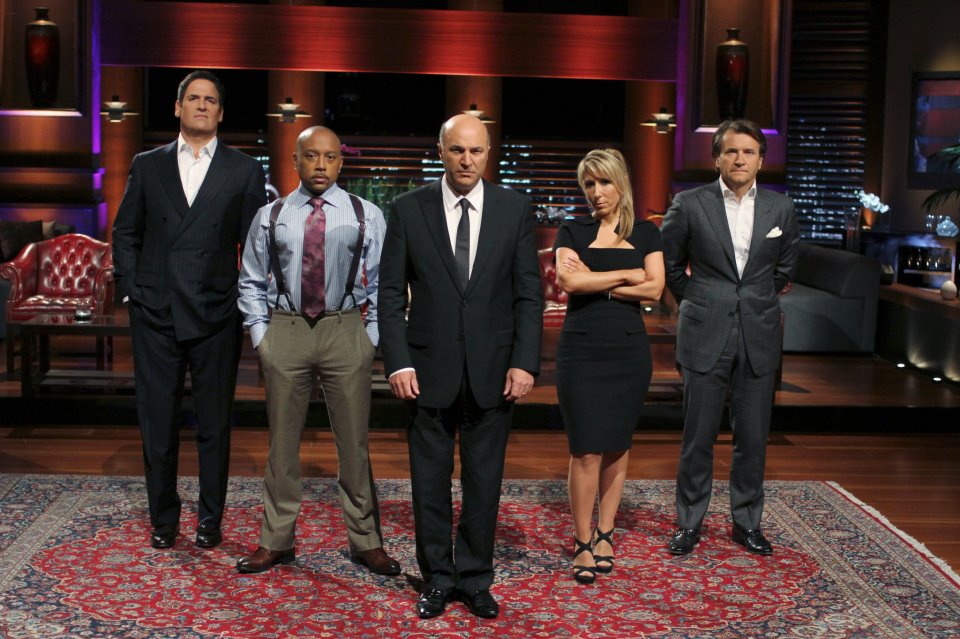 Episode 417 has Lori Greiner occupying the Shark Tank once again. New, featured entrepreneurs pitch the panel of Sharks on their businesses, hoping to score a deal. This episode features Baby Loves Disco, a nationwide traveling custom disco party truck that throws family friendly disco parties featuring real music spun and mixed by real DJs blending classic disco tunes from the 70s & 80s. Also featured is Cell Helmet, an iPhone case cover with a twist: if your phone breaks while in their case, they'll fix it for a small fee! The beanbag chair makes a comeback in this episode; CordaRoys is the original beanbag with a bed inside. We'll also be introduced to a former rodeo rider turned physical fitness trainer named Ryan "Cowboy" Ehmann who will pitch his innovative "Lose 12 Inches" workout program.
Follow up segments featuring past Shark Tank success stories are a regular feature on Shark Tank.  Episode 417 updates fans on Raven Thomas and The Painted Pretzel. Mark Cuban invested in The Painted Pretzel in episode 302 in season 3 and Raven's done HUGE sales numbers since then.
ABC announced some changes over the course of season 4. Shark Tank  moved to 9 PM eastern time, beginning with episode 410. This will give people a bit more time to settle in to watch their favorite venture capital game show and give ABC some exposure for new sitcoms. Shark Tank initially scheduled 22 episodes for season four, ABC bought 4 additional episodes over the course of the season, bringing the total to 26. The Shark Tank/ABC website is still looking for entrepreneurs, so if you would like to appear on the show, check out our Auditions and Casting information.
Episode 417 – The Shark Investors and Entrepreneurs
The Shark Tank Episode 417 entrepreneurs will make their best pitch to the panel of five Shark investors who will use their own money if they choose to invest. The Shark Investors negotiate on the spot without any previous information, which differs from typical negotiations between venture capital investors and entrepreneurial start-ups.
Companies pitching the Shark Investors must go through a rigorous due diligence process before an on-air deal is completed. Shark Tank Blog follow ups help you keep track of the companies that end up successful and the ones that don't complete their deal.
Thank you for reading SharkTankBlog, the number one site for Entrepreneurs, Investors and Fans. Our content updates multiple times day, giving you the latest information on Episode 417, Season 4, and all other seasons and episodes.