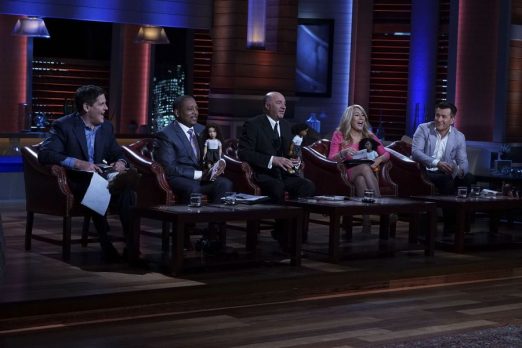 Episode 813 is the first new Shark Tank to air in 2017. Four new businesses hope to start the year with a deal as they pitch their businesses to the panel of investors/Sharks. Laura and Michael Dweck want to get down to the basics when they pitch Basic Outfitter, their online, men's sock and underwear company. Jason and Angelica Sweeting introduce the Sharks to Naturally perfect Dolls, their line of dolls that celebrate the natural beauty of girls of color. Tara and Jason O'Mara bring cats to the Shark Tank when they show off SHRU, an "intelligent cat companion," the flagship product of their PDX Pet Designs business. Former Navy Seal Cade Courtley hopes to brew up a deal for Victory Coffees, his military-branded line of organic, gourmet coffees sold via a subscription model.
Which business lands a shark tonight?
Back in season six, Robert invested $110K for 10% of Drain Strain, a sink drain stopper that won't clog. Since then, the product got on the shelves at Home Depot. Tonight we'll see what else happened with this business.
There are 28 Shark Tank Episodes for Season 8. This season features more appearances by Chris Sacca and a host of other surprises. Casting is currently closed, but it never hurts to get a head start on season nine! If you would like to appear on the show, check out our Auditions and Casting information.
Episode 813 – The Shark Investors and Entrepreneurs
The Shark Tank Episode 813 entrepreneurs will make their best pitch to the panel of five Shark investors who will use their own money if they choose to invest. The Shark Investors negotiate on the spot without any previous information, which differs from typical negotiations between venture capital investors and entrepreneurial start-ups.
Companies pitching the Shark Investors must go through a rigorous due diligence process before an on-air deal is completed. Shark Tank Blog follow ups help you keep track of the companies that end up successful and the ones that don't complete their deal.
Thank you for reading SharkTankBlog, the number one site for Entrepreneurs, Investors and Fans. Our content updates multiple times day, giving you the latest information on Episode 813, Season 8, and all other seasons and episodes.
Episode 813 Press Release
Episode 813 (1/6)
PARENTS CREATE A DOLL TO INSPIRE SELF-ESTEEM IN THEIR DAUGHTERS, AND CAT LOVERS CREATE A SPECIAL PRODUCT TO BOND WITH THEIR BELOVED CATS, ON THE FRIDAY, JANUARY 6, EPISODE OF 'SHARK TANK'
"Episode 813" – A couple from Homestead, Florida, had their young daughters in mind when they created a line of dolls that look like them: beautiful girls of color; a cat-loving couple from Portland, Oregon, hope the Sharks will paw their way into their innovative cat companion products, which includes a device to intimately groom your cat just like a mama cat; a husband and wife team from New York have a one-stop online shop for replacing men's outworn undergarments with affordable, high-quality new ones; and a former Navy SEAL from Austin, Texas, comes into the Tank hoping to walk out with a deal to take his patriotic coffee business nationwide. Also, a follow-up with Naushad Ali from Woodland, Washington, and his product Drain Strain, which Robert Herjavec invested in during season six, on "Shark Tank," airing FRIDAY, JANUARY 6 (9:00-10:01 p.m. EDT), on the ABC Television Network.
The Sharks in this episode are Mark Cuban, Daymond John, Kevin O'Leary, Lori Greiner and Robert Herjavec.