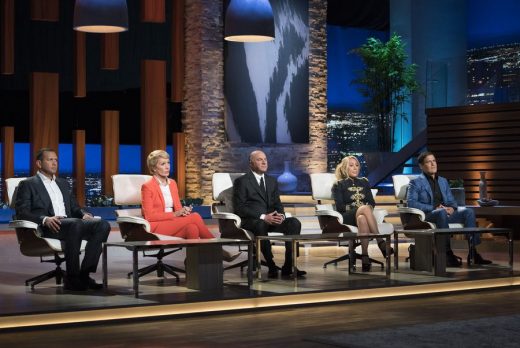 Alex Rodriguez returns as a guest Shark in episode 914. AFter his first appearance where he was an active bidder, A-Rod hopes to find more businesses to invest in. He'll have to outdo Barbara, Kevin, Lori and Mark to get the job done as four new businesses vie for the Sharks' cash and connections.
California State University at Sacramento grads turned "Hooptrepreneurs" Donte and Dominic Morris hope to take a shot at a Shark with HoopMaps, their pick-up basketball scheduling and search app. Alan Cook touts Brilliant Pad, his IndieGoGo success that cleans and seals dog waste. Dr. Hector Rodriguez and Maria Luna, a husband and wife entrepreneurial team, pitch Bravo, their app that lets you tip or pay service providers anonymously with your smart phone. "Momtrepreneur" Krista Woods hopes the Sharks don't think Glovestix, her solution for stinky sporting goods, stinks.
Who bags a Shark tonight?
Robert invested $200K in SandCloud in season 8. In exchange, he received 15% of the business. Tonight, we get an update on the company's growth since swimming with the Sharks.
There are 28 Shark Tank Episodes for Season 9. This season features more appearances by "guest Sharks," including billionaire Sir Richard Branson. The 200th episode also airs this season. Casting is currently closed, but it never hurts to get a head start on season ten! If you would like to appear on the show, check out our Auditions and Casting information.
Episode 914 – The Shark Investors and Entrepreneurs
The Shark Tank Episode 914 entrepreneurs will make their best pitch to the panel of five Shark investors who will use their own money if they choose to invest. The Shark Investors negotiate on the spot without any previous information, which differs from typical negotiations between venture capital investors and entrepreneurial start-ups.
Companies pitching the Shark Investors must go through a rigorous due diligence process before an on-air deal is completed. Shark Tank Blog follow ups help you keep track of the companies that end up successful and the ones that don't complete their deal.
Thank you for reading SharkTankBlog, the number one site for Entrepreneurs, Investors and Fans. Our content updates multiple times day, giving you the latest information on Episode 914, Season 9, and all other seasons and episodes.
Episode 914 Press Release
Shark Tank: Episode 914 (11/5)
LEGENDARY BASEBALL PLAYER AND FOUNDER & CEO OF AROD CORP RETURNS TO THE 'TANK,' IN THIS NEW EPISODE OF 'SHARK TANK,'  ON SUNDAY, NOVEMBER 5
"Episode 914" – An automatic dog potty system that wraps and then seals the waste to maintain a clean and odor-free home from an entrepreneur in Chicago, Illinois; two entrepreneurs from Phoenix, Arizona, designed an app to make tipping easier; twin entrepreneurs from Sacramento, California, hope to make the world of pickup basketball much simpler; and an invention that absorbs moisture and deodorizes sweaty sports gear from an entrepreneur in Ashburn, Virginia, on "Shark Tank," SUNDAY, NOV. 5 (10:00-11:00 p.m. EST), on The ABC Television Network.
In their follow-up, entrepreneurs Steven Ford, Brandon Leibel, and Bruno Aschidamini showcase their beach towel company Sandcloud's social efforts that support marine life and clean oceans with a beach cleanup in Ka'ehu Beach, Maui, Hawaii.
The Sharks in this episode are Mark Cuban, Barbara Corcoran, Kevin O'Leary, Lori Greiner and Alex Rodriguez.