Blondies Cookies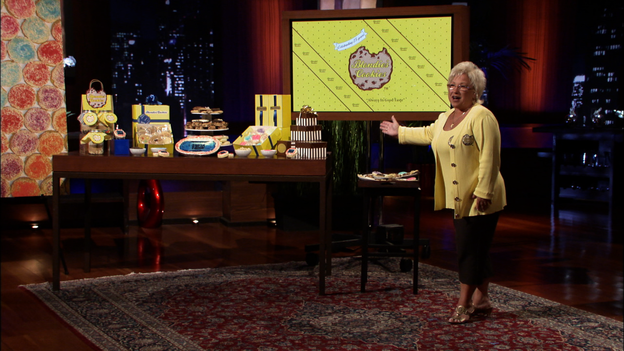 Blondie's Cookies entrepreneur Brenda "Blondie" Coffman pitched the Sharks on her retail cookie store concept in episode 308 of season 3. Brenda, who started Blondie's Cookies when she was still in college, has been in the cookie business for 25 years. Blondie's Cookies boasts 12 retail locations in Indiana and Florida. The Florida locations are new and the first locations away from their "home territory" of Indiana, where the Blondie's Cookies brand is strong.
Blondie's Cookies in the Shark Tank
Blondie's Cookies was looking for a $200K investment for a 3% share in the business. Brenda, like any good food entrepreneur, brought samples of Blondie's Cookies for the Sharks. They loved the cookies and the fact Blondie's had 2.3 million in sales in the previous year. What the Sharks didn't like was that Blondie's Cookies had about $800K in outstanding loans, most of which was used to fuel the expansion of retail locations into Florida. Unfortunately, the Florida stores, which were still relatively new as of the original broadcast, were losing money. This was due, in part, to their "newness" and they hadn't captured the corporate accounts that the Indiana stores have.
Kevin O'Leary doesn't like Brenda's valuation, so he's out immediately. Robert Herjavec likes the branding, but thinks Brenda needs to get back to Blondie's roots and focus on the Indiana stores; he's out. Mark Cuban likes the cookies – a bit too much – he thinks they'll make him need to work out more; he's out. Barbara Corcoran thinks Brenda needs to know when to quit: she doesn't like the fact the Florida stores are losing money, so she's out too. Daymond John doesn't like the valuation, so he's out, but he grabs all the remaining cookies and scarfs them down!
Blondie's Cookies Shark Tank Update
The Shark Tank Blog constantly provides updates and follow-ups about  entrepreneurs who have appeared on the Shark Tank TV show. Once an episode has aired, we monitor the progress of the businesses featured, whether they receive funding or not and report on their progress.
At least one of the Blondie's Cookies Florida locations has closed since the original air date, but the others remain open and the publicity from Shark Tank has helped sales.  A visit to the Sarasota store is in the works for Spring, 2013.
I never made it to Blondie's because they closed all their Florida stores. As of July, 2022, the seven original Indiana stores are still open and you can order online. They also purchased a new production facility in Indiana to increase cookie capacity. As of May, 2023, annual revenue is $9-$10 million.
Company Information
Media Links
Florida Store Locations
Brandon Town Center

651 Brandon Town Center Drive
Brandon, Florida
813.689.8877

Citrus Park Town Center

Tampa, Florida
813.920.2229

Sarasota

8201 S. Tamiami Trail
Sarasota, Florida
941.923.2105
Indiana Store Locations
Bloomington, Indiana

2954 East 3rd St, Suite G07A
Phone: 812.333.2710

Glenbrook Mall

4201 Coldwater Rd., Suite 322
Ft. Wayne, Indiana
260.483.0316

Honey Creek

3401 S. US Highway 41
Terre Haute, Indiana
812.232.1561

Keystone Fashion Mall

8701 Keystone Crossing Boulevard
Indianapolis, Indiana
317.705.9883

Kokomo

1160 S. 17th St.
Kokomo, Indiana

Muncie Mall

3501 N. Granville Ave.
Muncie, Indiana
765.288.3872

South Bend

6501 Grape Road
Mishawaka, Indiana