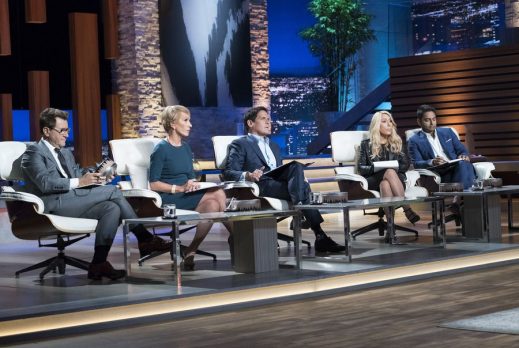 "Brandfather" Rohan Oza returns as a guest Shark in Shark Tank episode 919. He, along with the other "regular" Sharks will hear pitches from four new entrepreneurs seeking an investor for their businesses. Brent Davidson and Bryan Cantrell want to light a fire in the Tank with Radiate, their "portable campfire" made from recycled materials. Sam Polk and David Foster want a Shark to sit at EveryTable, their take out health food concept providing healthy meals at fast food prices. Julie Yenichek and Ryan Huyghe want a Shark to invest in PetRol, their "smart water" for dogs. Cousins Nikita Salmon and Chas Smith pitch SAP Maple, their line of sparkling waters made in Vermont from maple and birch sap.
Which business leaves the Tank with a Shark?
Earlier in season 9, Robbie Cabral did a deal with Mr. Wonderful at $200,000 for 15% of BenjiLock, a padlock with fingerprint activation. O'Leary went right to work getting a licensing deal, which we'll likely learn more about in tonight's segment.
There are 28 Shark Tank Episodes for Season 9. This season features more appearances by "guest Sharks," including billionaire Sir Richard Branson. The 200th episode also airs this season. Casting is currently closed, but it never hurts to get a head start on season ten! If you would like to appear on the show, check out our Auditions and Casting information.
Episode 919 – The Shark Investors and Entrepreneurs
The Shark Tank Episode 919 entrepreneurs will make their best pitch to the panel of five Shark investors who will use their own money if they choose to invest. The Shark Investors negotiate on the spot without any previous information, which differs from typical negotiations between venture capital investors and entrepreneurial start-ups.
Companies pitching the Shark Investors must go through a rigorous due diligence process before an on-air deal is completed. Shark Tank Blog follow ups help you keep track of the companies that end up successful and the ones that don't complete their deal.
Thank you for reading SharkTankBlog, the number one site for Entrepreneurs, Investors and Fans. Our content updates multiple times day, giving you the latest information on Episode 919, Season 9, and all other seasons and episodes.
Episode 919 Press Release
Shark Tank: Episode 919 (1/28)
BRAND GURU ROHAN OZA JOINS THE 'TANK,' ON ABC'S 'SHARK TANK,'
SUNDAY, JANUARY 28
"Episode 919" – A couple of dog-loving entrepreneurs from Cornelius, North Carolina, and New Albany, Ohio, present their healthy, hydrating treat for thirsty dogs; two outdoorsmen from San Diego, California, and Orem, Utah, have designed a convenient portable outdoor fire which is healthy and easy to use;  cousins from Underhill and Burlington, Vermont, turn their passion for the maple industry into a business and share their tree-made product; entrepreneurs from Los Angeles, California, share their healthy grab-and-go meal concept that creates a new standard to make healthy food affordable and a reality for all, on "Shark Tank," SUNDAY, JAN. 28 (10:00-11:00 p.m. EST), on The ABC Television Network, streaming and on demand.
In a "Shark Tank" update, entrepreneur Robbie Cabral, from Los Angeles, California, updates his investor, Kevin O'Leary, on Benjilock, the world's first traditional padlock with fingerprint and key-lock technology, allowing you to easily open your lock with the push of your fingertip or key.
The Sharks in this episode are Barbara Corcoran, Robert Herjavec, Mark Cuban, Lori Greiner and Rohan Oza.