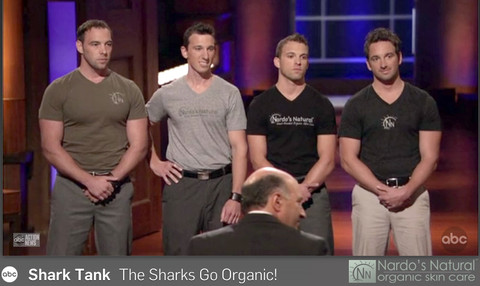 The four Nardo brothers appear in episode 305, Shark Tank season 3. They pitch their line of all natural, organic skin care products to the panel of Sharks. The Nardo Brothers make spa quality skin care products and sell through their website and retail at spas and boutiques. The idea for the line came when the oldest of the Nardo brothers, DJ, burned his hand doing a cooking demonstration and used olive oil to sooth his burned skin.
Soon, the boys were making organic skin care products out of their parents' garage. They're committed to green packaging and organic ingredients. All the Nardo's Natural products are made locally in Tampa. They're hoping the Sharks can give their business a boost with an investment.
Nardo Brothers Recap
The Nardo Brothers come into the Shark Tank seeking $75k for a 12% share in their business. They only have $30K in sales to date, but project $4.8 million this year. The boys produce letters from satisfied customers, including a letter from the White House.
Mark thinks the boys should get a loan to fund their business, so he goes out. Kevin spars with Kyle Nardo and says cosmetics are too competitive of a market. He says the Nardo Brothers will be "crushed like the cockroaches they are;" he's out. Daymond thinks it's way too early to invest in their business; he's out. Robert goes out too.
Barbara makes a big deal about how she hates the name: Nardo's Naturals. She likes the Nardo Brothers though and thinks their naivety could be an asset. Barbara offers the boys $75k for 50% of the business with the contingency that they change the name. After a brief conversation, the Nardos accept her offer and leave the Shark Tank with a new partner.
Nardo Brothers Shark Tank Update
The Nardo Brothers have come a long way since their episode aired. Kyle revealed that Barbara made such a big deal out of hating the name because she wanted people to remember it; they never changed the name of the products. In the fall of 2012, The Spa by Nardo's Natural opened in St. Petersburg, FL. The Nardos encountered a grave tragedy in the spring of 2013 when brother KJ was killed in a motorcycle accident. They redesigned their packaging and continue to sell both in their spa, through other upscale spa locations, and on their website.
The Nardo Brothers had an update segment air in episode 506. They did over $500K in sales last year and they are talking to big box retailers like CVS and Walgreens. With 16 sales reps and growing market share, they hope to be a million dollar company soon!
Nardo's has continued to grow over the years. As of January, 2023, they are still located in Tampa and they have annual revenue of  $5 million.  They also have a new retail location in North Largo, Florida.
There are many posts about the Nardos on Shark Tank Blog.
Posts About the Nardo Brothers on Shark Tank Blog
Full Service Day Spa Opens – Nardo's Natural – Update
Green Business Trending on Shark Tank
Nardo's Natural- An Interview with Kyle Nardo, Part I
Nardo's Natural- An Interview with Kyle Nardo, Part II
Nardo's Natural- An Interview with Kyle Nardo, Part III
Nardo's Natural- An Interview with Kyle Nardo, Part IV
Kyle and Danny Nardo on Hot Dog Stories 2013
Nardo Boys on Hot Dog Stories 2012
Nardo Brothers Information