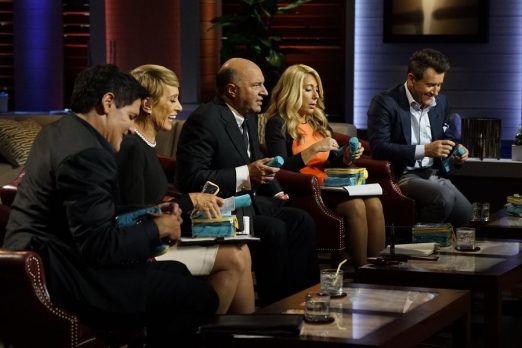 Episode 819 starts at 8 PM eastern this week – a bit earlier than usual. It's a Sharkette show with Barbara and Lori on the panel as the Sharks evaluate 4 new businesses seeking a cash infusion and a Shark partner. "Winetrepreneur" and master Sommelier Billy Dim toasts the Sharks with the Blendtique Wine Company, his business that lets people design their own wine blends and labels. Mark Bernstein wants the Shark to bite on MealEnders, his lozenge product that helps curb overeating by distracting the body's hunger signals. Two brothers, Aric & Alec Avedissian, hope to bag a Shark to invest in RareForm, their business that repurposes used billboard vinyl into bags, backpacks, wallets, phone cases and more. Inventor and entrepreneur Tara Brown pitches the Sleep Styler, her invention that dries and styles hair while you sleep.
Which business leaves the Shark Tank with a deal?
In this episode's update segment, Robert Herjavec's history is examined. We'll learned how he escaped communism in Yugoslavia and came to North America to achieve success.
There are 28 Shark Tank Episodes for Season 8. This season features more appearances by Chris Sacca and a host of other surprises. Casting is currently closed, but it never hurts to get a head start on season nine! If you would like to appear on the show, check out our Auditions and Casting information.
Episode 819 – The Shark Investors and Entrepreneurs
The Shark Tank Episode 819 entrepreneurs will make their best pitch to the panel of five Shark investors who will use their own money if they choose to invest. The Shark Investors negotiate on the spot without any previous information, which differs from typical negotiations between venture capital investors and entrepreneurial start-ups.
Companies pitching the Shark Investors must go through a rigorous due diligence process before an on-air deal is completed. Shark Tank Blog follow ups help you keep track of the companies that end up successful and the ones that don't complete their deal.
Thank you for reading SharkTankBlog, the number one site for Entrepreneurs, Investors and Fans. Our content updates multiple times day, giving you the latest information on Episode 819, Season 8, and all other seasons and episodes.
Episode 819 Press Release
Episode 819 (3/3)
THE SHARKS HAVE TOO MUCH OF A GOOD TIME MAKING AND DRINKING THEIR OWN WINE CREATIONS, AND AN EYE DOCTOR AND BUSY MOM  INVENTS A PRODUCT THAT HELPS WOMEN GET OUT THE DOOR QUICKLY AND LOOK GLAMOROUS, ON THE MARCH 3 EPISODE OF 'SHARK TANK'
In the 5th 'Shark Profile,' Robert Herjavec Reveals What Motivates Him to Succeed Every Day
"Episode 819" – An entrepreneur from Santa Maria, California, shows the Sharks his product that  takes the love of wine to the next level; an ophthalmologist and working mom from San Diego, California, impresses the Sharks with how she found time to create a special tool that helps women everywhere; two brothers from Agoura Hills, California, recycle old billboards that would otherwise go into landfills to make one-of-a-kind accessories, from wallets to surfboard covers; and the Sharks have high compliments for a man from San Francisco, California, and his revolutionary lozenges that can prevent overeating, master portion control and curb snacking.
Also, in the fifth Shark profile, technology innovator and cybersecurity expert Robert Herjavec says "entrepreneurship is the great equalizer." Herjavec recalls how he arrived to North America from Eastern Europe with his parents after escaping Communism in the former Yugoslavia, and reveals what motivates him to succeed every day, on "Shark Tank," airing FRIDAY, MARCH 3 (8:00-9:00 p.m. EST), on The ABC Television Network.
The Sharks in this episode are Mark Cuban, Kevin O'Leary, Robert Herjavec, Lori Greiner and Barbara Corcoran.