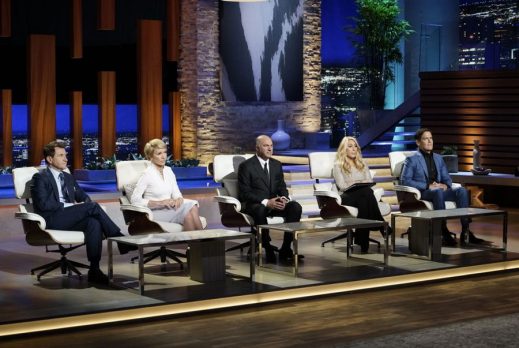 Mr. Wonderful returns to his center seat in episode 906, the third new episode of season nine. Mr. O'Leary had Mark Cuban warming his chair in the two-part season premier featuring guest Sharks Sir Richard Branson and Rohan Oza. Both guest Sharks did deals in their Shark Tank debuts.
O'Leary, along with Mark, Barbara, Lori, and Robert hear pitches from four new businesses seeking capital and clout from one of the wealthy panelists. Brighton Jones and Aaron Daly hope the Sharks invest in Enso Rings, their silicone ring company that promises the "cure" for ring avulsion related injuries. Jason Burns hopes to fidget his way to a partnership with Fidgetland, his line of custom-made fidget toys for adults and kids. Liz Martin brings her failed Kickstarter project called TanglePets, a de-tangling hair brush with a plush toy, to the Tank to score some funds for trade shows. Charles Nick and Taylor Minor want Third Wave Water to fill the Shark Tank. Their "dehydrated water" capsules enhance the flavor of coffee.
Who snags a Shark tonight?
Lori Grenier invested $75K for 25% equity in Tara Brown's invention, The Sleep Styler, back in season 8. Tonight, we'll find out how the business is doing since then.
There are 28 Shark Tank Episodes for Season 9. This season features more appearances by "guest Sharks," including billionaire Sir Richard Branson. The 200th episode also airs this season. Casting is currently closed, but it never hurts to get a head start on season ten! If you would like to appear on the show, check out our Auditions and Casting information.
Episode 906 – The Shark Investors and Entrepreneurs
The Shark Tank Episode 906 entrepreneurs will make their best pitch to the panel of five Shark investors who will use their own money if they choose to invest. The Shark Investors negotiate on the spot without any previous information, which differs from typical negotiations between venture capital investors and entrepreneurial start-ups.
Companies pitching the Shark Investors must go through a rigorous due diligence process before an on-air deal is completed. Shark Tank Blog follow ups help you keep track of the companies that end up successful and the ones that don't complete their deal.
Thank you for reading SharkTankBlog, the number one site for Entrepreneurs, Investors and Fans. Our content updates multiple times day, giving you the latest information on Episode 906, Season 9, and all other seasons and episodes.
Episode 906 Press Release
Shark Tank: Episode 906 (10/8)
ENTREPRENEURS PROMISE A SPECIAL ADDITIVE TO WATER WILL MAKE THE BEST CUP OF COFFEE, AND A HIGH-ENERGY MOM HAS A SOLUTION TO A HAIRY PROBLEM , ON A NEW EPISODE OF 'SHARK TANK'
"Episode 906" – The Sharks debate if the solution to make coffee taste even better from two entrepreneurs from Cedarville, Ohio, is too much of a niche product; an entrepreneur from Woodland Hills, California, is at the forefront of a hot trend for those who need to increase their focus while decreasing stress; a high-energy mom from La Center, Washington, has a product that will make kids love brushing their hair; and two men from Midvale, Utah, surprise the Sharks about the danger of something they wear every day. Also, a follow-up with Tara Brown from San Diego, California, and Sleep Styler, which Lori Greiner invested in during season eight, on "Shark Tank," airing SUNDAY, OCTOBER 8 (9:00-10:00 p.m. EDT), on The ABC Television Network.
The Sharks in this episode are Mark Cuban, Kevin O'Leary, Barbara Corcoran, Lori Greiner and Robert Herjavec.