Shark Tank – Reality TV
Shark Tank may be the best show ever for Entrepreneurs. Each week close to 8 million viewers tune in and get excited about each Entrepreneur asking for The Sharks' help. The show is very social and interactive: Twitter goes crazy as The Sharks tweet live during the show. Fans are able to have conversations and get more information from investors, entrepreneurs and the Sharks themselves.Each episode has five investors who hear funding requests for companies ranging from pure start-ups to multimillion dollar businesses. If the Sharks like the business, they'll negotiate with the entrepreneurs. It can get heated in the Shark Tank since the Sharks are investing their own money.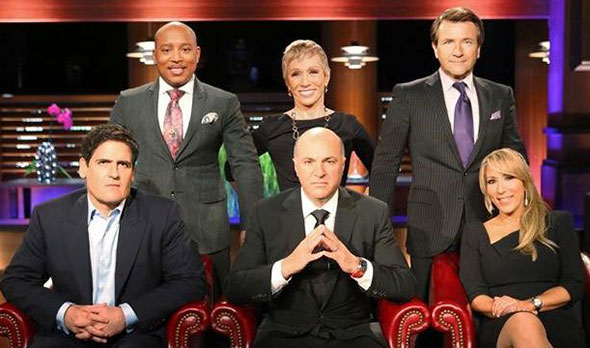 The deals made on Shark Tank do not finalize until The Sharks perform due diligence on both the company and the entrepreneur. Investments agreed to on the show often die during the vetting process for a variety of reasons, despite having an on-show agreement.
Official ABC Shark Tank Media
By Season:
Past Sharks, Current Sharks and Guest Sharks are:
Daymond John        – Founder and CEO/President FUBU, FB legacy and Shark Branding
Robert Herjavec      – The Herjavec Group, Dragon's Den,
Barbara Corcoran  – Founder, The Corcoran Group
Mark Cuban              – Owner, Dallas Mavericks, Landmark Theatres, Magnolia Pictures
Kevin O'Leary          – O'Leary Funds, O'Leary Fine Wines
Lori Greiner             – Queen Of QVC, Inventor and Entrepreneur
Nick Woodman – Owner Go Pro Cameras
Steve Tisch – Film and TV producer and NFL executive
John Paul DeJoria – Hair Care Tycoon and Philanthropist
Chris Sacca – former Google executive and the founder of VC firm Lowercase Capital
Ashton Kutcher – TV Personality and Actor turned Venture Capitalist
Troy Carter – founder of entertainment management company Atom Factory
Kevin Harrington  – Co-founded HSN (Home Shopping Network), TV Goods, As Seen On TV
Jeff Foxworthy       – Comedian, Brand Builder and Investor
Click HERE for a complete list of Shark Tank Episodes by season.
Entrepreneurs' Roller-Coaster
Entrepreneurs go through an emotional roller-coaster ride. There is a regimented casting process with tens of thousands of applicants.
More businesses tape a show segment than are eventually shown. The producers select the most entertaining presentations and then notify each one a few weeks before their episode airs.
The best preparation for an appearance on Shark Tank is setting up as many pitches to Venture Capital and Angel Investment groups before facing the The Sharks. Some entrepreneurs will simulate the rapid barrage of questions by having friends and family simulate the Reality TV Show  experience. Study as many past pitches as possible and record your own pitch, so you are able to study your own presentation and adjust it as necessary.
The Sharks – Celebrity Investors
Shark Tank investors include Billionaire Mark Cuban; Fashion Icon Daymond John; Investment Expert and previously aspiring Photographer, Kevin O'Leary; Real Estate Mogul Barbara Corcoran; QVC Queen and Inventor, Lori Greiner; and Software Mogul and Ferrari Challenge Team owner, Robert Herjavec. Info-Commercial Pioneer Kevin Harrington and Comedian Jeff Foxworthy are previous Celebrity Investors.